One of the best feelings in the world is meeting a friend you instantly click with. Whether you've bonded over a favourite TV show or were simply put in the same class together, there's always something that draws you two together.
For best friends Alyssa and Kayla, it was the simple fact that they both started their first year of university together. "I didn't know what to do. It was frosh week, I had zero friends," Alyssa told HuffPost Canada. "I literally ran up to her and said, 'Excuse me, are you also in first year?'"
After that, the two instantly hit it off and even began their first night of friendship with a sleepover.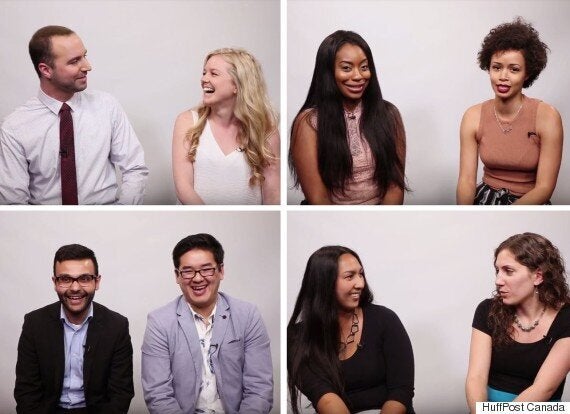 For besties Varun and Brian though, things were a bit different. In fact, their 20-year friendship began in Grade 7 over their shared love of food.
"Definitely we were both fat," Varun joked. "So being two fat kids together was a match made in heaven."
"I used to get all these weird Indian lunches that I wouldn't eat," he continued. "And Brian being Brian would have his own lunch that his mom packed him and then eat mine too. Then we worked on all these projects together and became friends."
As we get older, friendships become even more important. Not only do our BFFs keep us grounded, but they offer support, act as our partners-in-crime and teach us new things. And to top it all off, it's in these friendships that we get to be our best and worst selves without fear of losing face.
"These types of deep friendships are where we get to be the most vulnerable."
Shasta Nelson, author of Frientimacy: How to Deepen Friendships for Lifelong Health and Happiness, told Health.com: "These types of deep friendships are where we get to be the most vulnerable, where we get to practice being the best versions of ourselves, and sometimes even the worst versions."
That's right — the beauty of best friends is that they'll accept you no matter what. Warts and all.
Do you remember how you met your best friend? Let us know in the comments below!