OTTAWA — Canada has quietly paid another $30 million toward development of the F-35 — money that could become insurance in the trade dispute between U.S. aerospace firm Boeing and Canadian rival Bombardier. The annual payment was made to the U.S. military at the end of April, the Department of National Defence says, and will keep Canada at the table as one of nine partners in the fighter jet project for the next year. Canada has paid US$373 million into the program since 1997, National Defence spokeswoman Jessica Lamirande said in an email.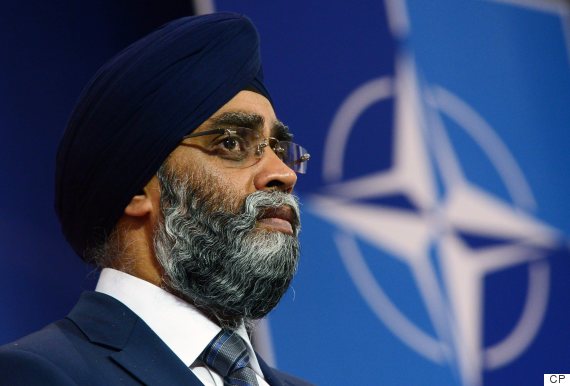 Defence Minister Harjit Sajjan takes part in a press conference at the NATO summit in Brussels, Belgium on May 25, 2017. (Photo: Sean Kilpatrick/The Canadian Press)
Staying in the program has advantages, as partners can compete for billions of dollars worth of contracts associated with the building and maintaining F-35. They also get a discount when purchasing the plane. That latter point wasn't considered much of a benefit when Canada paid its annual instalment last year, as the Liberals had promised during the 2015 election not to buy the stealth fighter. The government instead went out of its way last July to highlight the potential benefits to Canada's aerospace industry when explaining why it had decided to stick with the program. Those industrial benefits continue to accrue, Lamirande said, with Canadian companies having secured US$926 million in F-35-related contracts over the last 20 years — including US$114 million in the last year alone.
Liberals seek 'interim' Super Hornets
But the trade dispute between Boeing, which builds Super Hornet fighter jets, the F-35's main competitor, and Montreal-based Bombardier casts the decision to stick with the stealth-fighter program in a new light. Citing an urgent need for more fighter jets, the Liberal government announced last November plans to buy 18 "interim" Super Hornets until a competition could be held to replace Canada's entire CF-18 fleet. But then last week, the government threatened to scrap the Super Hornet purchase after Boeing persuaded the U.S. Department of Commerce to launch an investigation against Bombardier. Boeing alleges Bombardier sold its CSeries jets in the U.S. at an unfair discount thanks to subsidies from the Canadian government, while Bombardier says its planes never competed with Boeing.
A better deal down the road?
Many defence analysts and former air force officers have questioned whether "interim" fighter jets are needed and instead want an immediate competition to replace all of the CF-18s. But if more jets are truly needed on a short-term basis, the decision to stay at the F-35 table could be used to get a better deal on interim stealth fighters — or even as a bargaining chip against Boeing. "If the government is in fact serious about re-evaluating its dealings with Boeing, then this could be part of showing that," said defence analyst David Perry of the Canadian Global Affairs Institute. "Because the F-35, at least in my mind, would be a possible alternative if the government remains committed to buying separate interim aircraft."
Also on HuffPost Canada:
Current MPs With Military Experience (2016)



Three other alternatives exist — the Saab Gripen, Eurofighter Typhoon and Dassault Rafale — but all are made by European companies and the government has emphasized the need for a U.S. design. Lockheed Martin, the company behind the F-35, has remained relatively quiet about the government's plan to buy interim Super Hornets, but is now chomping at the bit for a chance to fill any potential gap. The U.S. company "would openly welcome discussions about interim fighter solutions," spokeswoman Cindy Tessier said, adding that Lockheed has partnered with Bombardier on another military project. The government is providing little information as to what next steps it might take as the dispute between Boeing and Bombardier continues to play out. Boeing, for its part, has emphasized its longstanding relationship with Canada, even as representatives from its defence division have scrambled to meet and smooth the edges with Canadian officials. The U.S. International Trade Commission, which heard arguments from both aerospace companies in a hearing last week, isn't expected to issue a ruling until June 12. The U.S. Department of Commerce would then decide whether to penalize Bombardier.