As if convocation day wasn't emotional enough.
In a heartwarming story that demonstrates not only a mother's love, but a son's as well, Judy O'Connor received an honourary MBA at Chapman University this week, alongside her son, Marty.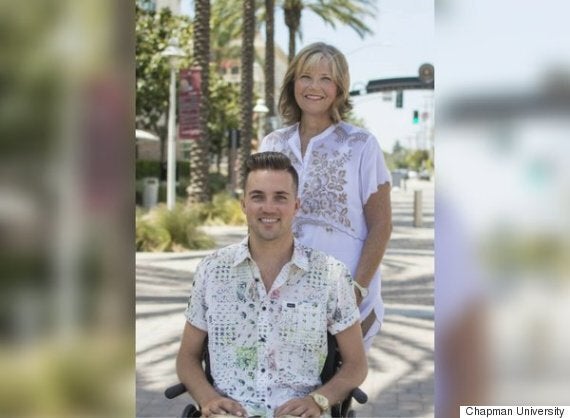 So when it came time for him to get his diploma, he thought she deserved one too — and the administration agreed.
"At the suggestion of her son, and with the support of all the relevant bodies, we are honoured to award an honourary MBA to Mrs. O'Connor," a school official said through tears.
Marty, who had previously completed an undergraduate degree at the University of Colorado in 2010, became a quadriplegic in 2012 after falling down a set of fire-escape stairs, resulting in a spinal cord injury, Chapman University's blog reports.
His mother, who has a business degree and was an elementary school teacher at the time, moved from Florida to southern California to help him.
After his accident, Marty endured months of physical therapy, but he was determined to take on another challenge. He applied for a grant from the Swim with Mike organization (which financially assists physically challenged athletes) and started at Chapman in 2015, with his mom by his side.
"I'm a geek. I love being in school," Judy told the blog. "I'm not going to lie. I've enjoyed every minute of it."
And Marty obviously knows just how lucky he was to have a mother like that.
"I'm a geek. I love being in school. I'm not going to lie. I've enjoyed every minute of it." —Judy O'Connor
"She's been instrumental in the past two years," he said to the OC Register. "There's no way I would have achieved my level of success without her."
As for Judy, she just wants her son to be happy.
"It was a wonderful privilege to be able to do this for him," she told the paper. "You get a spinal cord injury — I couldn't fix it, but I could do this for him."