HALIFAX — Warm water temperatures and a weak or non-existent El Nino will contribute to an above-normal hurricane season this year, the Canadian Hurricane Centre said Thursday.
Bob Robichaud, a meteorologist at the Halifax-based centre, said figures released by the U.S. National Oceanic and Atmospheric Administration predicted 11 to 17 named storms, with five to nine expected to become hurricanes and two to four expected to become major in force.
Robichaud said an average of 35 to 40 per cent of storms that form in the Atlantic Basin actually make it into the centre's Canadian response zone, meaning anywhere from four to six storms could affect Canada this year.
But Robichaud stressed: "It only takes that one storm to make it a bad year, regardless of the number of storms.''
Strong El Nino can suppress hurricanes
That means Atlantic Canadians should always prepare for the worst by having an emergency kit ready and creating a family plan, he said.
One factor contributing to the active hurricane season is above-normal water temperatures in the Atlantic in the last six weeks, said Robichaud.
He said there is a chance of El Nino conditions this year, but it's uncertain whether those conditions will be reached by peak hurricane season during August, September and October.
A strong El Nino — the warming of waters in the Pacific Ocean — can suppress hurricanes in the Atlantic.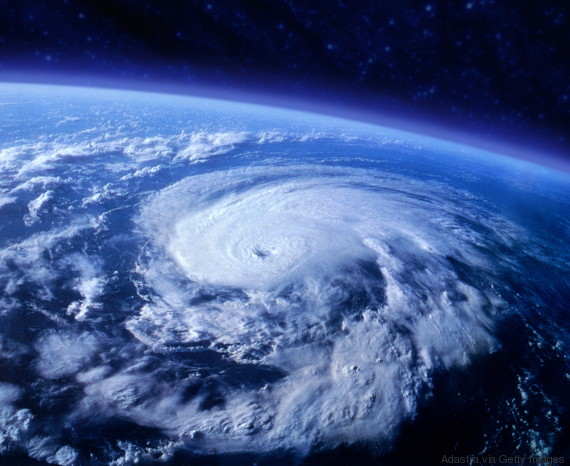 Hurricane seen from space.
Hurricane seasons tend to be quieter in years with a strong El Nino and more active in years with La Nina conditions — like in 2016.
"The key thing here is the uncertainty in the El Nino,'' said Robichaud.
More from HuffPost Canada

• Canadian Summer Weather Will Feel Like A Teeter-Totter: Meteorologist
Hurricane season runs from June 1 until the end of November, and there has already been one named storm this year.
A rare April tropical storm named Arlene formed over open ocean, but was no threat to land. The next tropical storm will be named Bret.
4 major hurricanes last year
Robichaud said the Atlantic region has been in an "active period'' for hurricanes since 1995. He said active periods can last up to 30 years, but it's not clear whether we're currently leaving an active period or still in it.
"We went three years with either average or below average numbers, and then last year — boom — they're above average again,'' said Robichaud.
Last year there were 15 named storms, seven of which reached hurricane status, with four of those reaching major hurricane status. A typical year has 12 storms, six hurricanes and three major hurricanes.
However, the centre has said in the past that those numbers can be misleading. They have argued that the number of storms forming over the Atlantic has no connection with the impact on Central and Eastern Canada.
The centre issued bulletins on six storms in 2016, but only three actually made it into the Canadian response zone.
Robichaud said a separate system pulled moisture from Matthew up to the region, causing extensive heavy rainfall and subsequent flooding in eastern Nova Scotia and Newfoundland.