You can't blame autocorrect for this one. Kids these days are going to prom with croissants because they can't spell corsage.
In a tweet that has since gone viral, a Texas-based teen shared a text conversation she had with her date leading up to prom.
My prom date everybody pic.twitter.com/ResFxIapqh

— śoph (@SophieMartini) May 1, 2017
The silly error of calling a corsage a croissant was favourited 46,000 times since it was posted in April.
But it turned out, Sophie's date isn't the first to make that mistake. In 2016, Julia Gorman shared this photo posing with her date while rocking a croissant corsage.
And even before that, KFC debuted an edible corsage in 2014, but that one didn't seem to stick.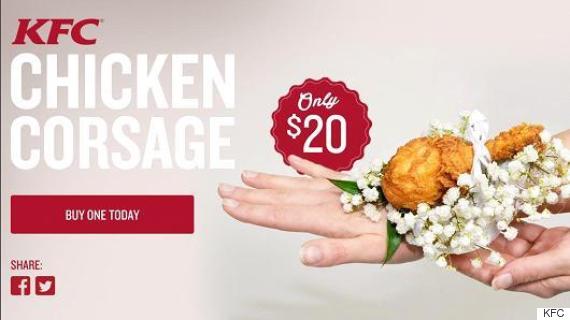 These days, Twitter is filled with dozens of couples proudly putting croissants on each other's wrists and lapels.
Corsage? Croissant? pic.twitter.com/uWfTeILlQf

— Spaghetti (@notsoslimsha_dy) May 1, 2016
Thanks to this post on Instagram, I just reffered to a corsage as a croissant while talking to my niece... I'm done.😂 pic.twitter.com/NfgBaCWgfH

— Jaely ⚽️ (@j_pereira18) May 9, 2017
when you say croissant instead of corsage pic.twitter.com/3yg7Z0TeTa

— Melanie (@melskels7) October 9, 2016
But it's not all because of typos. Some girls just know what they want.
backstory: I've always wanted a croissant for a dance instead of a corsage & well: pic.twitter.com/e4gXUriI3h

— kristie🥀 (@kristieesuzanne) May 7, 2017
Yup, we'd take flaky pastry (or crispy chicken) over over-priced flowers any day of the week.
Also on HuffPost