A little girl yanked off a dock by a sea lion in Richmond B.C. last weekend is now being treated for a rare and dangerous infection.
Vancouver Aquarium spokeswoman Deana Lancaster told NBC News that the girl is taking antibiotics for "seal finger" — an infectious condition that can cause the affected area to swell up, and is most often seen in people who work with marine mammals or seal meat.
"If any member of our animal care team receives a bite from a sea or sea lion, they take a letter from our vet with them to the hospital, which explains that the infection is resistant to some antibiotics," Lancaster said.
A video posted online earlier this week showed the adult male California sea lion grabbing the young girl's dress and pulling her backwards off the guard rail where she had been sitting. (Watch the video above.)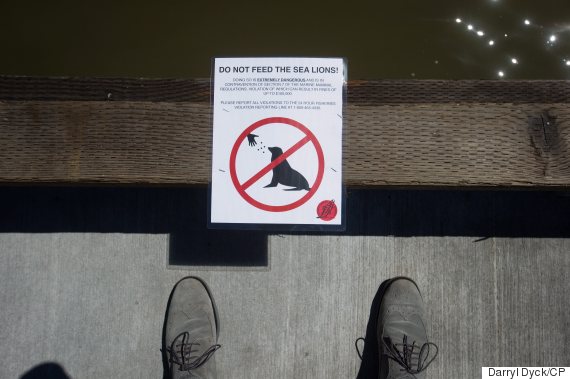 A notice warning people not to feed sea lions is posted on a dock at Steveston Harbour where a girl was pulled into the water by a sea lion on the weekend, in Richmond, B.C. (Photo: Darryl Dyck/CP)
The girl's quick-thinking grandfather jumped in the water to save her.
Her family later denied accusations that they had been feeding the seal, but did admit they had let her get too close to the wild animal.
"That's a lesson she took and she has taken that lesson in a hard way," her father told CBC News.
Also on HuffPost
Photo gallery
Sea Lion Rescue By Vancouver Aquarium
See Gallery