It's a rite of passage at large global political gatherings that's steeped in tradition — get the spouses together for a "family photo." But this picture from the North Atlantic Treaty Organization (NATO) conference in Brussels, Belgium, is a departure in the right direction from photos past.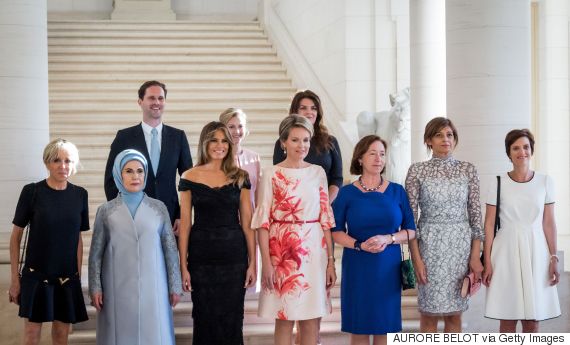 Standing at the back of a crowd that includes the First Lady of Turkey, Emine Gulbaran Erdogan, the First Lady of the U.S., Melania Trump, Queen Mathilde of Belgium and First Lady of Iceland, Thora Margret Baldvinsdottir, is Gauthier Destenay, the husband of Luxembourg's prime minister, Xavier Bettel.
The First Gentleman, as he is known, looks ecstatic to be joining in on the action, and it's the first time a gay husband has been included in a NATO snap of this nature (although they have included men before).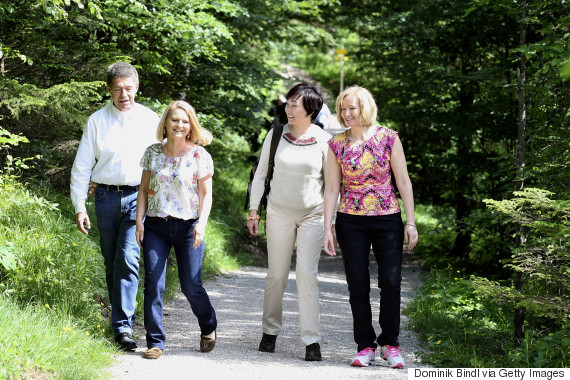 Joachim Sauer, husband of German Chancellor Angela Merkel, Malgorzata Tusk, wife of European Council President Donald Tusk, Akie Abe, wife of Japanese Prime Minister Shinzo Abe and Laureen Harper, wife of Canadian Prime Minister Stephen Harper take a walk around Elmau Castle on June 7, 2015.
Bettel and Destenay formed a civil partnership in 2010, and made it official when same-sex marriage became legal in Luxembourg in 2015, reports People.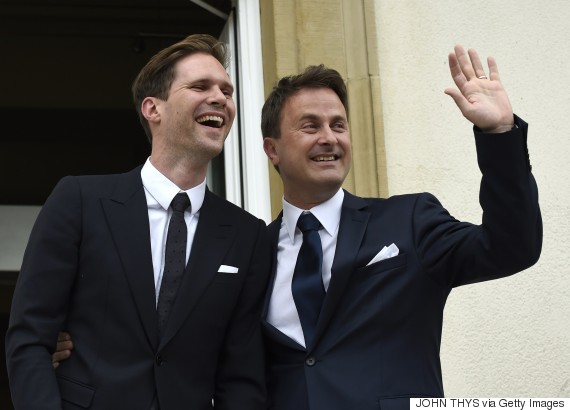 Luxembourg Prime Minister Xavier Bettel (R) waves next to Belgian architect Gauthier Destenay during their wedding in Luxembourg on May 15, 2015.
Destenay isn't, mind you, the first same-sex spouse of a world leader — that honour went to Jónína Leósdóttir, the wife of Iceland's former Prime Minister Johanna Sigurðardóttir, who noted the lack of reaction to her partnership was likely because of what she looked like.
"I think it helped being such a mature age with grandchildren," she said in a 2014 interview with the Telegraph. "I think people see white women grandmas as rather harmless so maybe it's not so threatening."
Destenay, who works as an architect, is originally from the host country Belgium, making the photo op that much more meaningful.
Also on HuffPost
Toronto Pride Parade 2016