An Ontario city councillor has been asked to step down after he sent a pornographic image to dozens of people through his government email account.
Niagara Regional Coun. Andy Petrowski sent out the message early Monday afternoon in response to an email from Coun. Bruce Timms about a road closure.
A Newstalk 1010 reporter took a screenshot of Petrowski's email, which was sent as a "reply all," and shared it on Twitter. The email showed an image of a nude woman sitting on a stool, with her legs spread.
This is the email. Below the cut off is a woman fully nude, perched on a stool, her legs open. pic.twitter.com/ZyL6a1O9bW

— Siobhan Morris (@siomo) May 29, 2017
"There must have been a sale on these multimillion-dollar, taxpayer-funded, non-functional arches … guess who put these up in Ottawa. You're right if you said … drum roll, please … 'Pomerlau' … what a joke!" the email read.
A few minutes later Petrowski sent out an apology, saying the email was sent by someone else using his iPad.
Petrowski sent this 6 minutes after the reply all that included a photo of a naked woman. I'm confused. pic.twitter.com/dNPtZSHHTf

— Siobhan Morris (@siomo) May 29, 2017
"I have spoken directly to the (councillor) about this egregious conduct, and have requested his resignation from regional council," Niagara Regional Chair Alan Caslin told Niagara This Week on Monday.
Caslin told CKTB News that Petrowski didn't respond to the request for his resignation.
This is the second time in two years that Petrowski has claimed a message from him was actually sent by someone else.
The St. Catharines Standard reported that after the police chief received a text from the councillor's phone in January 2016 that read "Hello clown are you a tyrant?" Petrowski claimed he had left his phone unattended, but would not identify the person who he claimed had sent the message.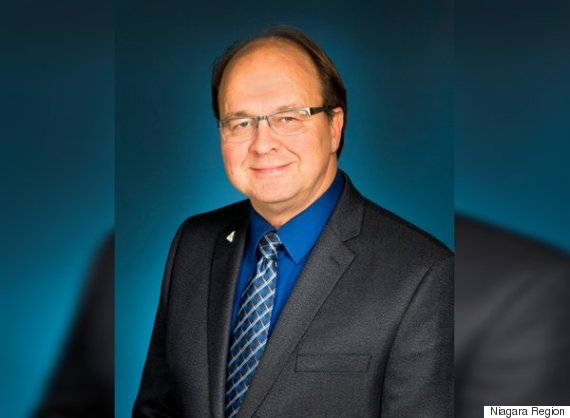 Coun. Andy Petrowski is being asked to step down by his colleagues after he sent an email from his work account that included a pornographic image. (Photo: Niagara Region)
The Standard asked Petrowski to identify who allegedly sent the pornographic email from his account, but Petrowski responded to the reporter by calling the paper "fake news" and adding a "poo" emoji to a reporter's email signature.
Petrowski was found less than two weeks ago to have violated the council's code of conduct for posting Islamophobic tweets. The councillor's Twitter bio reads "Pro-Trump, Pro-Nationalism, Pro-Life, Pro-Jesus, Pro-Constitution, Pro-Speech, Anti-LEFT, Climate Change is Natural."
"This pattern has continued without any contrition, without any change," MP Chris Bittle told CBC News.
Follow HuffPost Canada on Facebook, Twitter, and Instagram.
Also on HuffPost:
Social Media Mishaps In The 2015 Canadian Election