If you're looking for a trendy name for your wee one, you better choose one that starts with "Ad-" or ends with a "-ley" sound. According to Nameberry, these are the monikers that are about to explode in popularity.
By comparing 2016 and 2006 baby name data from U.S. Social Security, the site determined that names like Adaline and Bentley were the ones that gained the most traction in the past 10 years.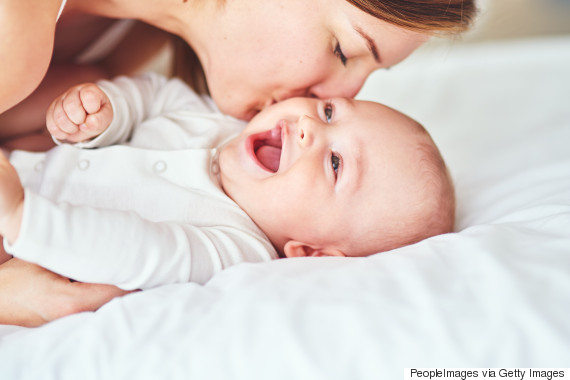 According to the data, Adalynn is the top rising girls' name, which is now 31 times more popular than it was in 2006. As for names ending in a "-ley" sound, Royalty took the number one spot. Impressively, the moniker is now 58 times more popular than it was a decade ago.
While Royalty sounds like a bizarre name to give your baby, we shouldn't be that surprised parents are digging it. In 2015, BabyCenter reported "royal" baby names as one of the hottest trends of the year.
In fact, that year the name Royalty jumped 88 per cent for girls, while Royal increased 36 per cent for boys.
This rising trend was likely due to a number of celebrities who chose these types of names for their kids. In the past few years, Kourtney Kardashian has introduced us to her son Reign, Chris Brown named his baby girl Royalty, and T.I. welcomed his daughter Heiress.
Celebrities have always influenced the biggest trends in baby names and 2017 is no different. Vintage celebrity surnames such as Lennon, Monroe and Harper are continuing their rise, according to Nameberry. In fact, these names are so trendy that even famous figures have chosen them for their own children. Mariah Carey, for instance, named her daughter Monroe in 2011 after her idol Marilyn Monroe.
Other hot names on the rise include first names of celebrities. Monikers such as Isla (Fisher), Zayn (Malik) and Mila (Kunis) have never been trendier than they are now. Respectively, these names are 27, 19 and 13 times more popular than they were in 2006.
Visit Nameberry to see more of the trendiest baby names of 2017.
Need more baby name ideas? We've got you covered




• Spring Baby Names You'll Love


• 10 South Asian Baby Names That Sound Beautiful

Also on HuffPost
Best & Worst Celeb Baby Names Of 2016