If you're one of those people who loves waterslides — especially the steep ones — you probably don't want to see this.
Terrifying footage captured over the weekend shows a 10-year-old boy fly out of a waterslide at a Northern California water park.
The incident took place on Saturday, during the grand opening of The Wave water park in Dublin, Calif., reports 3NEWS.
The boy climbed to the top of the three-storey slide, called the Emerald Plunge, and launched himself down.
But when he reached the bottom, he flew over the side, hitting the slide's edge, before skidding several feet on the concrete. (Watch the footage above.)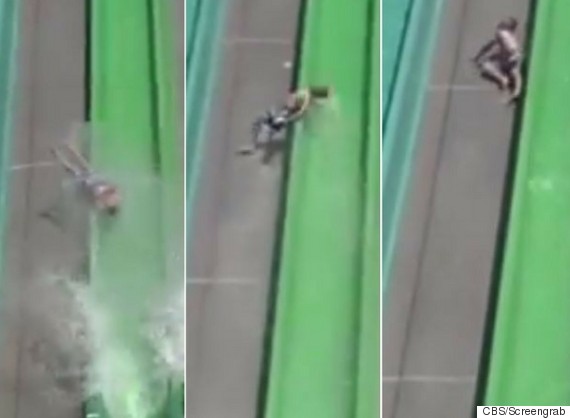 Toughest. Kid. Ever. (Photo: Screengrab/CBS)
"Obviously that's not what you want to have happen on your first day," Linda Smith, the assistant city manager for the City of Dublin, told ABC News.
Amazingly, the video shows the boy get up quickly and walk away.
Park officials confirmed to CBS that he was treated in hospital for some scrapes on his back, but was otherwise fine.
The slide has been shut down for a few days, until officials figure out how to prevent future accidents.