There's one thing Nicolas Fabien-Ouellet wants to make clear: he has no problem with people eating, enjoying or adapting on poutine. In fact, he encourages it.
The problem, he says, is how Canada and the rest of the world has come to see the delicious dish of fries, gravy and cheese curds — and specifically how it has been culturally appropriated from Quebec.
What is now a celebrated symbol of Canadian food culture, was originally used as a tool to "tarnish Quebec culture and undermine its legitimacy of self-determination as a nation."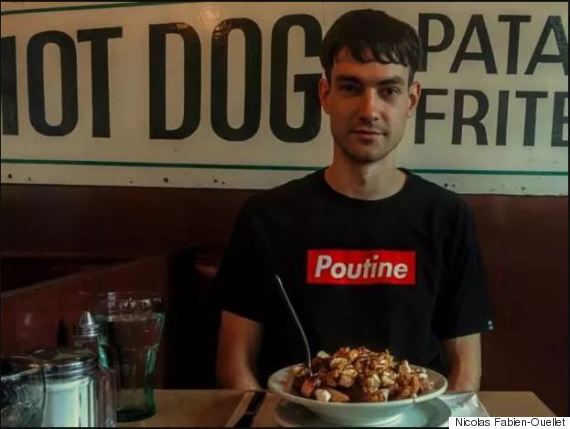 Nicolas Fabien-Ouellet, a masters student at the University of Vermont, wants everyone to enjoy poutine, but also remember the sociohistorical origins of the dish. (Photo: Nicolas Fabien-Ouellet)
"What people often do not realize about poutine is how its social status has not always been so high, and that the dish has actually been used as a way to mock Quebec society," the Montreal-born researcher wrote in his paper "Poutine Dynamics," which he will present this week at the Congress of the Humanities and Social Sciences at Ryerson University.
His paper argues that poutine is following a similar "rags-to-riches" food trend as kimchi and sushi — "foods that went from being food items with a connotation of shame, be it to shame a culture or a personal identity, to being highly sought by foodies and then by the masses."
Poutine has not always enjoyed its current lauded status, as a cartoon drawn in 1987 and published in the Montreal Gazette suggests. (Photo: McCord Museum, M987.217.40)
Invented in Quebec in the 1950's, poutine's prominence across Canada and around the world has really only risen in the past 10 years or so. But Fabien-Ouellet argues that the dish's explosion in popularity comes with appropriation of Québécois food culture.
"I noticed more and more how poutine was presented as a Canadian dish, instead of a Québécois dish," he told HuffPost Canada.
"This is a problem, because Quebec has a distinct culture, a distinct society and nation."
Fabien-Ouellet points to national polls that claim poutine as one of the "Greatest Canadian Inventions" and chefs around the world who highlight the dish as "the official dish of Canada."
Wendy's, when introducing poutine to their menu in 2012, even went as far as launching a "Poutition," asking Canadians to vote to make poutine the "National Food Of Canada."
Fabien-Ouellet is not the first to discuss the role "Canadization" has played on poutine.
Six years ago, Montreal chef Chuck Hughes told Toronto Life magazine that he's "concerned" about how poutine has become known as a Canadian dish.
"It's totally NOT a Canadian dish. It's Québécois!" he said.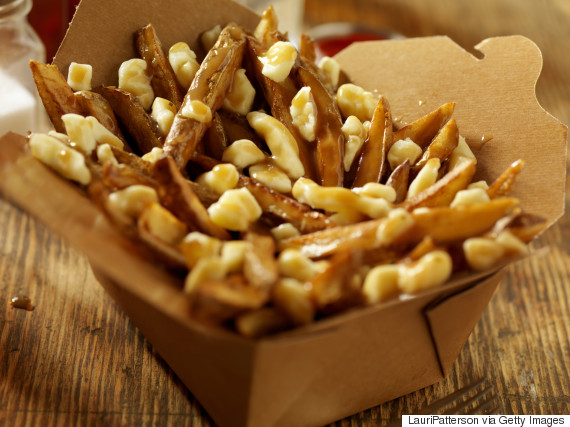 (Photo: Lauri Patterson/Getty Images)
Ian Alexander Cuthbertson, a postdoctoral fellow at Queen's University, further explored poutine's identity in a blog post from earlier this year, arguing that "poutine's status as either Canadian or Québécois is political."
Fabien-Ouellet says it's not enough just to inhale a plate of tasty poutine — he says it's important that people understand the sociohistorical consequences of the dish.
"Appreciation comes with recognition and we should be labelling poutine as 'Québécois' and not 'Canadian.'"
Follow HuffPost Canada on Facebook, Twitter, and Instagram.
Also on HuffPost