A hot air balloon engagement is interesting enough on its own, but one man's marriage proposal in Alberta got even more er, memorable when the balloon crashed.
Christine Peters had wanted to go for a ride in one since she was a girl. Her partner Stephen Martin delighted her on Saturday when the couple hopped in a balloon near Edmonton with several others, according to CTV Edmonton.
Then Martin pulled out an engagement ring, and Peters said yes.
"All of a sudden, we're still 30 or 40 feet up in the air and just the whole thing shakes and you hear like cracking of branches and we're in a tree," Peters said. The balloon came free before it collided with another tree.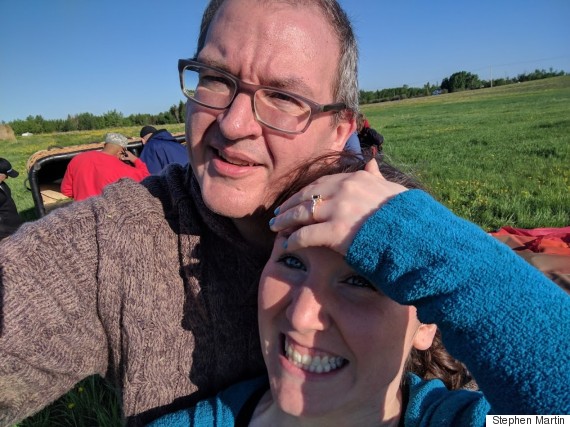 Christine Peters dreamed of taking a hot air balloon ride since she was a child, then during her first, her partner Stephen Martin proposed.
The pilot had been trying to land when it got caught in a downdraft, fellow passenger Jeffrey Scott wrote in the description of a video he posted to YouTube.
In the footage, the basket scratches against branches and swings back and forth before the balloon rises again. Someone asks passengers if they're okay before the pilot tells them that he'll try to land in a field.
The basket then hits the ground with a thud then continues to skid along as they wait for the balloon to collapse.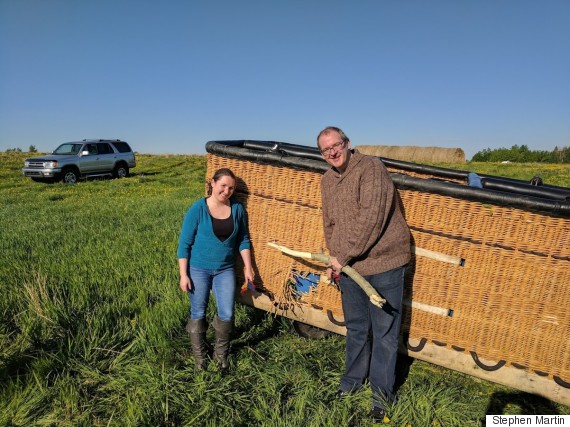 Martin holding a tree branch that got caught on the balloon's basket when it crashed.
"It all happened very quickly so I don't think we really had a chance to be afraid," Scott told Nine.com.au.
"We were all just more or less relieved in the end that we were all OK and no one got hurt."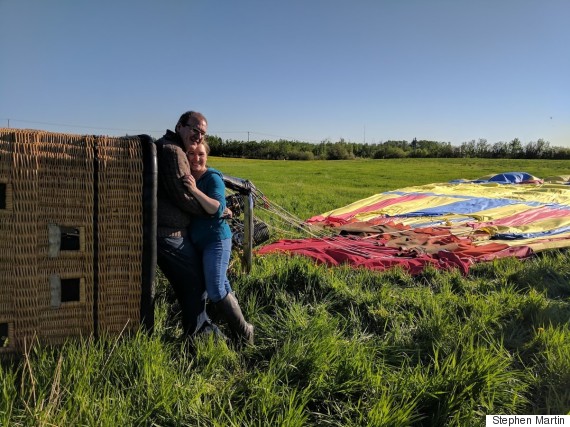 They're none the worse for wear.
Winds were high that day, Scott said.
Martin told ABC News that he and Peters were a bit achy afterwards, but even though he's scared of heights, he'd still go for a ride again.
"Looking at it now, I'm actually glad we went out because it was kind of like a crazy adventure ... plus, seeing how I proposed to her too, it makes for an awesome story," he said.