Saskatchewan MP Brad Trost says he'd text Andrew Scheer a "big question mark" if he sees the new Tory leader marching in a gay Pride parade this summer.
Trost, who finished in fourth place in the crowded Conservative leadership contest, sat down with CBC News' "Power & Politics" Monday to discuss the strength of social conservatives in the party.
Trost conceded that many of his supporters backed Scheer after he dropped off the ballot Saturday, helping the former House Speaker leapfrog the front-runner, libertarian Quebec MP Maxime Bernier, to win the leadership.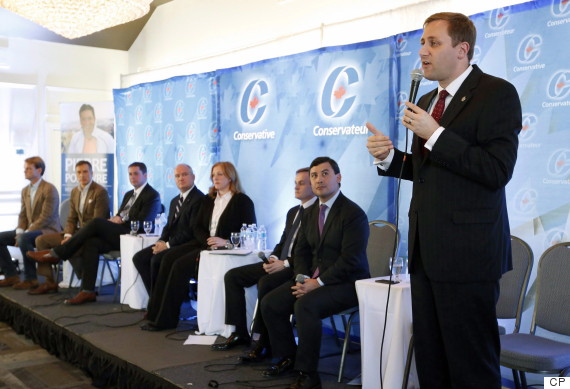 Brad Trost speaks at a Conservative leadership debate in Greely, Ont., on Nov. 13, 2016. (Photo: Fred Chartrand/The Canadian Press)
"Andrew's a devout Roman Catholic, he's got a perfect voting record, five kids. I mean, that reeks 'family dad' through and through," Trost said.
Scheer, an MP since 2004, has voted in favour of anti-abortion motions in the House of Commons and against same-sex marriage and transgender rights legislation. He has pledged, however, not to reopen debates on gay marriage or abortion, despite his personal views.
But with summer looming, Scheer is already being asked if he will participate in Pride parades, as former interim Tory leader Rona Ambrose and Ontario PC Leader Patrick Brown did last year.
Interim Conservative leader Rona Ambrose and Ontario Progressive Conservative Leader Patrick Brown march in Toronto's Pride parade on July 3, 2016. (Rona Ambrose/Facebook)
"So, if you saw Andrew Scheer at a gay Pride parade, you wouldn't be upset? You'd be cool with that? You'd understand what he was doing?" host Rosemary Barton asked Trost.
"I think I would send him a text message with a big question mark and I think I'd get a response back pretty quick," Trost said with a smile.
Watch the full interview from CBC:
Trost's views on gay rights sparked headlines during the lengthy race after he released a statement pledging never to march in Pride parades and criticizing Conservatives who do. His campaign manager, Mike Patton, released a video online in which he stated: "In case you haven't noticed, Brad's not entirely comfortable with the whole gay thing."
Trost later told BuzzFeed Canada that he was uncomfortable with "the gay lifestyle."
"A gay lifestyle would be people having — how would we put this — gay people having gay sex. That's their business, from my perspective, but it's not something I want to teach my kids is right and moral," Trost told the website.
Trost's impressive showing once the results were announced — besting former cabinet ministers such as Lisa Raitt, Michael Chong, Chris Alexander, Steven Blaney and Kellie Leitch — raised eyebrows.
"Progressive Conservatives: it just took 10 rounds to eliminate a man who thinks being gay is a choice, how's this possible in 2017?" tweeted Ian Capstick, a pundit and former NDP staffer Saturday.
Progressive Conservatives: it just took 10 rounds to eliminate a man who thinks being gay is a choice, how's this possible in 2017? #CPC17

— Ian Capstick (@iancapstick) May 27, 2017
In an apparent show of unity, Trost was given a speaking slot in question period Monday, as were other ex-leadership candidates. But unlike other rivals, Trost will not sit near Scheer on the opposition's front bench. Instead, Trost is now seated in the third row in the House.
Pride 'very politicized': Scheer
Scheer was pressed about Pride in an interview with Global News' "The West Block" Saturday night. Host Vassy Kapelos noted how Ambrose took part in such events to show the party wanted to be more inclusive and asked if he would do the same.
Scheer said he had "heard reports coming out of the Pride parades about not even allowing police officers march," and said the events have become "very politicized." The Conservative Party will remain inclusive, he said.
"But would you stay away from something like a Pride parade?" Kapelos asked.
"You tell me. What's going on with Pride today? You know, they are not even allowing police officers, people who put their lives on the line for hard-working Canadians," Scheer said.
While uniformed police officers have been asked not to march in Toronto's Pride parade this summer, that's not the case everywhere. Pride parades in Vancouver and Ottawa, for instance, will feature uniformed officers.
&nbsp
Prime Minister Justin Trudeau became the first sitting prime minister to march in a Pride parade last summer — something Liberals just happened to highlight at a press conference Monday on LGBTQ2 tourism.
Liberal MP Randy Boissonnault, Trudeau's special adviser on LGBTQ2 issues, said politicians marching in Pride parades sends an important message.
"It matters to kids who are thinking about committing suicide. It matters to kids who have been kicked out of their homes by their parents because they're intolerant of LGBTQ2 kids," he said.
"I expect all leaders of parties in this country not just to be prepared to march in a parade, but to actually march in a parade and be fully inclusive of all Canadians. We're talking about millions of LGBTQ2 people in our country. This is not a fringe."
With a file from Althia Raj
Also on HuffPost
Toronto Pride Parade 2016