Instagram is known for its hordes of impressive makeup photos and videos, but one recent look is making the rounds for pretty nasty reasons.
Instagram user @paintdatface is coming under fire on social media for a now-deleted photo he posted on his account depicting a makeup transformation where he heavily darkened a white model's skin, Buzzfeed reports.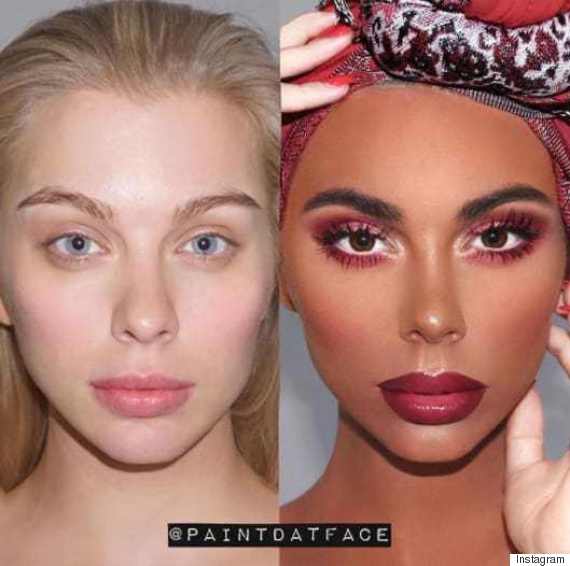 The artist posted a disclaimer with the photo, probably realizing he was opening himself up to backlash, where he explained the transformation wasn't about a "race change" and instead was about celebrating another person's culture.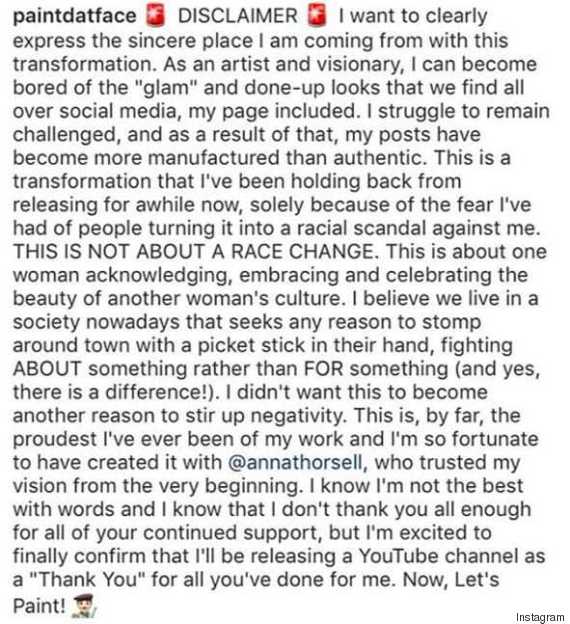 "This is a transformation that I've been holding back from releasing for a while now, solely because of the fear I've had of people turning it into a racial scandal against me. THIS IS NOT ABOUT A RACE CHANGE. This is about one woman acknowledging, embracing, and celebrating the beauty of another woman's culture," part of the post's caption reads.
A screenshot of the post was eventually reposted on Twitter as users condemned the account owner and accused him of perpetuating blackface. Many users also wondered why @paintdatface hadn't just used a person of colour as his model if he was trying to appreciate another culture.
📞Hello Paintdatface ..... WOC called and we want our MELANIN back 😡 #appropration #blackface #BlackGirlsAreMagic @LegendaryRootz pic.twitter.com/jRFaSlxzXG

— FancyFallonMua (@fancyfallonmua) May 28, 2017
"I know this is wrong but I'm going to do it anyway because I'm proud of myself :) and I hate you all" pic.twitter.com/qt2gWGLubo

— churro (@hotcheetothicc) May 28, 2017
@tea_bing @rihonardo 1) it's blackface 2) black women are not fun costumes you can try on 3) the artist should have used a black model if they wanted to do this

— Third Force (@NalediMashishi) May 28, 2017
Defenders of the photo argued it was a form of art and an attempt to push the limits of what makeup could do.
@ArtsyPoet @rihonardo @NalediMashishi Because that's not the point. The point he said was to see what makeup can do.

— Spurs 🏆🏆🏆🏆🏆 (@IVGuerraFelix) May 28, 2017
@ArtsyPoet @rihonardo @NalediMashishi To me, its art! It's like using makeup to turn a woman into a man or vice versa. I wouldn't consider that transphobic or st like that.

— Spurs 🏆🏆🏆🏆🏆 (@IVGuerraFelix) May 28, 2017
The original post on @paintdatface's page was replaced with screenshots of the original post and a new photo of the user himself with different colour foundation smeared on his face and a line of lipstick down his mouth.
A new caption explained he didn't take the post down because he regretted it, but because people didn't understand the message and had warped the post into something negative.
"The transformation came from a place of love and was not about mocking one's race, but rather about celebrating it. I am so proud to be illustrating a woman representing several cultures along with their achievements, beliefs and histories," the new post said.
The user isn't the first Instagrammer to come under fire for blackface on the platform either. Sara Rosenkilde, aka @saramariarosenkilde posted a photo of herself in blackface and a prosthetic nose in January. She soon deleted the post and uploaded an apology saying she wanted to explore other cultures and was sorry about people who'd been offended by it.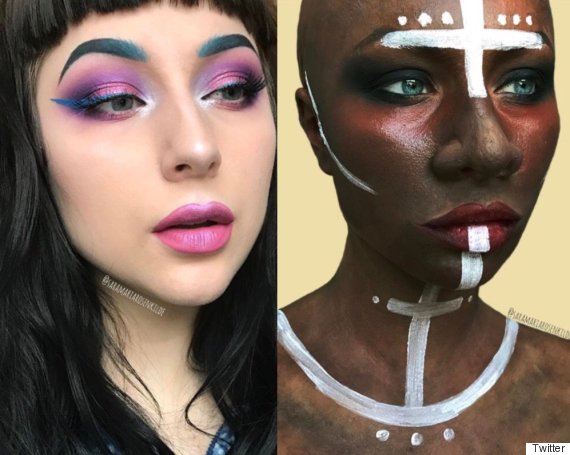 Jennilie Perreault, another makeup artist, was similarly slammed in 2015 when she posted a photo of herself and wrote she had decided to turn herself into an African-American.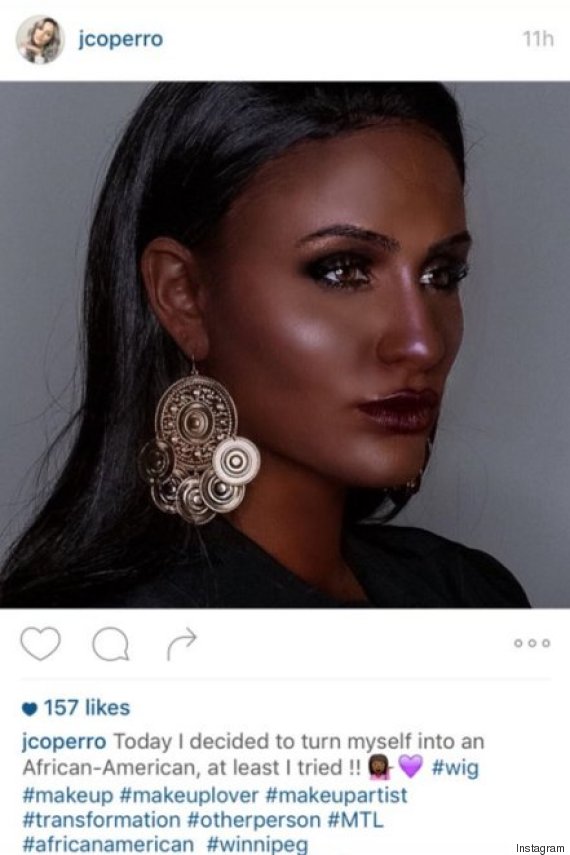 She also later apologized and said she agreed the post hadn't been the best idea and that her intentions hadn't been bad.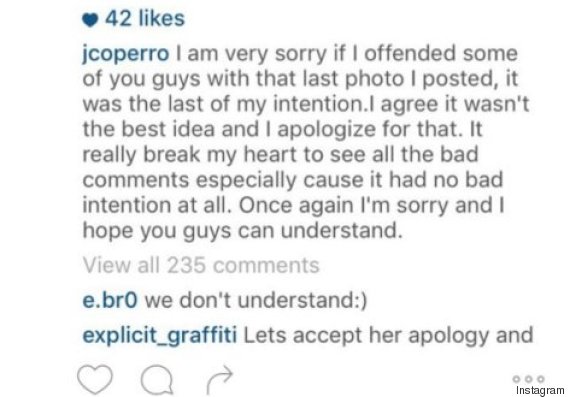 And this wasn't even the first time @paintdatface has done makeup based off other cultures on his account.
On May 6, 2017 he posted a photo of himself with bright red lips, thick black eyeliner, and reddish eyeshadow with the caption "a traditional Chinese look with a modern twist."
The debate on whether he was expressing himself through art or engaging in cultural appropriation continued in the older post's comments.
It remains to be seen whether @paintdatface will continue his, um, exploration of other cultures.