There's a lot of talk and a lot of publicity these days about what girls can and can't wear to school.
But lost among the discrimination faced by girls when it comes to dress codes is the fact that many girls don't want to wear short shorts or fitted shirts — they just can't find other options on their side of the department store.
Feast your eyes, for example, on the Google search results for "shorts for girls Canada" we just did.

It's also a problem two clothing companies have been trying to combat for years. Moms Sharon Choksi (owner of Girls Will Be) and Courtney Hartman (owner of Free To Be Kids) had enough to trying to make do, and chose to create their own lines.
"Some people ask us, 'Why don't your daughters just shop in the boys' department?'" Choksi tells HuffPost Canada. "And while that works for some girls, we don't think girls should have to shop in the boys' department to find the things they love. Plus, not all girls want to wear the boxy, oversized styles you find there."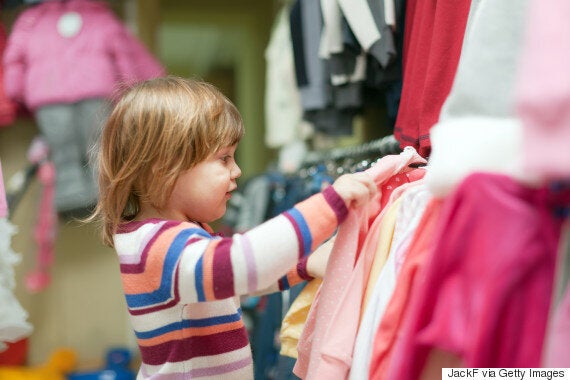 Both brands are trying to level the playing field when it comes to kids' clothing, with Girls Will Be creating longer and baggier shorts for girls, and T-shirts that have more coverage than cap sleeves. Meanwhile, Free To Be Kids does offer cap sleeves, but also has styles that are roomier and non-gendered when it comes to design.
"If you like wearing slimmer fit tees and you feel comfortable and good in those, that's awesome. If you like wearing your shirts a little more relaxed, that's also awesome," Hartman tells HuffPost Canada. "Don't let anybody tell define 'feminine' or 'girly' for you. Fashion and trends come and go, but style is evergreen!"
Girls Will Be went so far as to measure girls' clothing against boys' clothing and discovered a massive discrepancy in the sizing.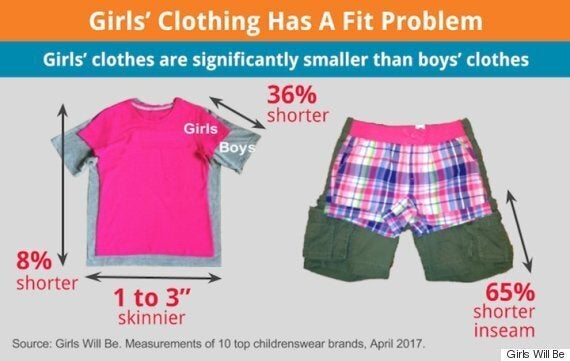 "Girls' shorts are literally one-third the length of boys' shorts," the company notes. "And in all 10 brands [studied], the boys' size six shorts had longer inseams than the girls' size 10 shorts."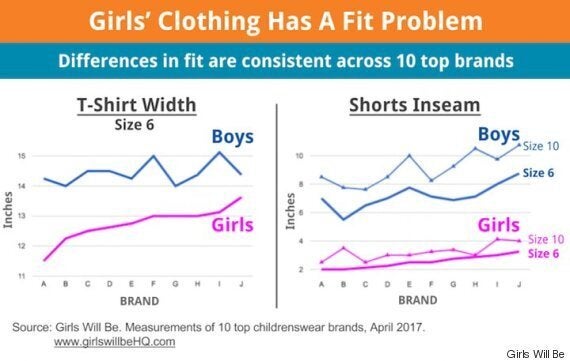 "There's absolutely no reason boys' clothes and girls' clothes should be such wildly different shapes," notes Hartman.
"The boys' undies are generous, full coverage. For some reason, the girls' ones are that "high cut" style that all women have learned to hate. Let's be honest, they go right up the butt, right? I see no reason for the cut of 2-year-old's underwear to differ by gender, except for the fact that society is already expecting them to be little men or little women instead of the practically genderless children that they are.

But we also need to address the fabric. The boys' undies are a soft, thick cotton. The legs are lined with more cotton, and the waistband is a nice elastic. The girls' undies are so thin. So depressingly thin, like tissue paper. The worst part is that the legs and waist are finished with this awful lace.

Moral of the story? Girl stuff is inferior, and being a girl is uncomfortable. Life lesson learned. There you go, age two. Boom. Look, boys don't exactly win here either. God forbid a little boy doesn't like his choices. Can you imagine how people would react, knowing that a mom bought her son girls' underwear?"
"​While boys' clothes are constructed for comfort and utility, girls' clothes tend to be designed to emphasize and minimize their shape. Fitted leggings, fitted tees, and shorty shorts are the norm," notes R​achel Simmons, co-founder of Girls Leadership, an organization dedicated to empowering girls. "Only offering those options sends girls the message that their bodies are, and should be, on full display at all times – and that looking slim is more important than having freedom of movement."
And while Girls Will Be does emphasize that if a girl's preference is for a slimmer fit, she should feel more than confident wearing those clothes, but they want to give more options for the sake of choice and comfort.