Chris Wattie / Reuters
OTTAWA — President Donald Trump's decision to pull out of the Paris climate-change agreement is disappointing, but the world is marching inexorably towards a greener future with or without the United States, says Canada's environment minister.
Catherine McKenna was responding to news that the U.S. is pulling out of the landmark 190-country agreement to reduce greenhouse gas emissions, although the president says the U.S. is willing to try to negotiate its re-entry, under better terms.
She called Trump's Rose Garden announcement "deeply disappointing,'' but suggested the president is costing the U.S. a golden opportunity to profit from the inevitable growth of clean-tech initiatives around the globe.
&nbsp
"The clean-growth economy is where the world is going and Canada is going to be part of it,'' McKenna said on Parliament Hill following Thursday's White House news conference.
"Canada wants to create good jobs, and wants to grow our economy and create opportunities for business. We want to be there, we want to be providing solutions for the world. We know where we're going.''
Trump framed his decision as reasserting American sovereignty, saying, "I was elected to represent the citizens of Pittsburgh, not Paris.''
We are deeply disappointed that the United States federal government has decided to withdraw from the Paris Agreement.

— Justin Trudeau (@JustinTrudeau) June 1, 2017
He said the U.S. would ``cease all implementation'' of the accord, under which his predecessor Barack Obama had voluntarily agreed to reduce emissions by about 1.45 billion tonnes by 2025.
Trump said that he would begin negotiations to re-enter the agreement or establish "an entirely new transaction'' to get a better deal for the U.S. But re-entry was hardly a priority, he suggested: "If we can, great. If we can't, that's fine.''
Scientists say Earth is likely to reach more dangerous levels of warming sooner as a result of the president's decision because America contributes so much to rising temperatures. Calculations suggest withdrawal could result in emissions of up to 2.7 billion tonnes of additional carbon dioxide in the air a year — enough to melt ice sheets faster, raise seas higher and trigger more extreme weather.
Justin Trudeau chatted briefly Thursday by phone with Trump, and ``expressed his disappointment with the president's decision,'' the Prime Minister's Office said in a statement.
Trudeau "also conveyed Canada's continued commitment to working internationally to address climate change,'' it said.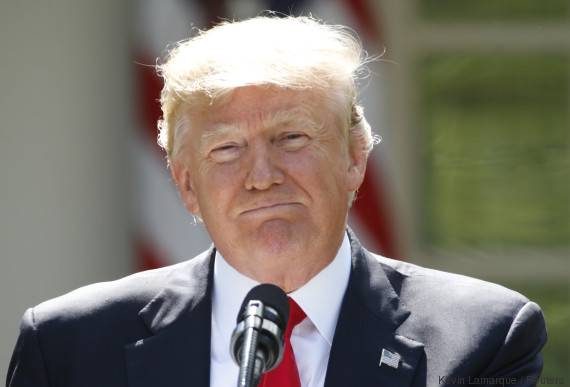 U.S. President Donald Trump announces his decision that the United States will withdraw from the landmark Paris Climate Agreement, in the Rose Garden of the White House in Washington, D.C., June 1, 2017. (Photo: Kevin Lamarque/Reuters)
Other significant stakeholders in the U.S. disagree with the president's decision, McKenna said.
"I've seen in the United States that businesses support the Paris accord and climate action; businesses support it, cities support it and everyone's moving forward, in the United States and around the world,'' she said.
"It's unfortunate that the U.S. administration says they're pulling out of the Paris agreement, but you can't stop progress.''
McKenna said Canada will co-host with China and the European Union a ministerial summit here in September to advance action on the Paris agreement. She also said she plans to meet with her U.S. counterpart next week in Italy, where she will "seek clarity'' on the U.S. position.
Trump said the agreement disadvantaged the U.S. "to the exclusive benefit of other countries,'' leaving American businesses and taxpayers to absorb the cost.
&nbsp
'A bleak day'
Dale Marshall of Environmental Defence issued a statement calling Thursday "a bleak day" for climate change and global diplomacy, but also expressing confidence the accord would survive the U.S. pullout.
"Withdrawing from the Paris agreement will result in the U.S. becoming isolated on the global stage," Marshall said.
What's Happening In Ottawa?

Stay on top of the biggest political stories of the day with our newsletter.

Renewable energy prices will continue to fall as innovation continues and alternative forms of energy gain traction, he continued. And a diminished U.S. role in research and development will mean opportunities elsewhere, he added.
"Canada should continue to move forward with ambitious action on climate change in order to seize these economic opportunities and help fill the void left by the U.S withdrawal from the Paris agreement," Marshall said.
"The Canadian government should implement the pan-Canadian framework on climate change, and work with U.S. states, other like-minded allies in the U.S., and climate champions from around the world to further propel the clean energy revolution and show continued leadership on climate change."
Also on HuffPost
Photo gallery
When Trudeau Met Trump
See Gallery