NDP Leader Thomas Mulcair was asked Wednesday to react to reports that Karla Homolka has been volunteering at a Christian elementary school in Montreal.
&nbsp
Mulcair's remarks — which expressed revulsion at Homolka's crimes as well as ethical questions of atonement and forgiveness — are more nuanced than some headlines suggest.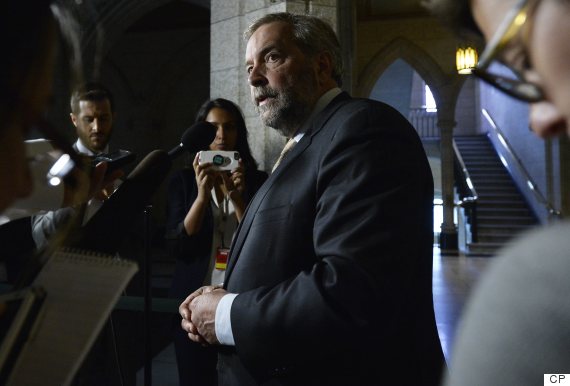 NDP Leader Thomas Mulcair talks with media in Ottawa on May 31, 2017. (Photo: Matthew Usherwood/The Canadian Press)
In the early 1990s, Homolka and her then-husband, Paul Bernardo, were convicted in the rape and murder of teens Kristen French and Leslie Mahaffy. Bernardo was declared a dangerous offender and sentenced to life in prison while Homolka struck a deal with prosecutors in 1993 to serve 12 years in prison for manslaughter.
Homolka also played a role in the rape and death of her sister, Tammy.
Liberal MP Chris Bittle who represents the Ontario riding of St. Catharines where the murders took place, tweeted to Mulcair on Thursday that it is "not time to forgive this monster."
I'm from St Catharines and let me assure you @ThomasMulcair, it's not time to forgive this monster #cdnpoli https://t.co/SqwIgspC9y

— Chris Bittle (@Chris_Bittle) June 1, 2017
Mulcair declined to clarify his position Thursday, telling Parliament Hill reporters that the families of Homolka's victims are hurt each time it is discussed.
Watch Mulcair's full remarks from Wednesday Here's the full transcript of the reporter's questions and the NDP leader's replies:
Reporter question: Are you concerned that serial killer Karla Homolka has been occasionally volunteering at a Montreal elementary school? Do you think there should be any rule changes or law changes to prevent a criminal like Karla Homolka from being able to volunteer in scenarios like that?

Mulcair: The crimes of Karla Homolka are so horrific that it's so difficult to look at a case like that otherwise than through the horror of the crimes she committed. On a human level it's very difficult to go beyond that. There's an open question for the people in that community and in those schools.

I understand she's been volunteering in a Christian school. Everybody is going to have to take their own stock of that and make sure that first and foremost the security of their kids is taken care of. Beyond that, it really becomes a question of forgiveness. I guess that's part of this discussion and whether or not someone who's paid their debt and if you're ensuring the safety of the kids, beyond our revulsion at the horror of the crime, is there any way for atonement and forgiveness? I'm going to leave that to those parents because they have the obligation of ensuring the security of their kids.

Reporter question: Changing any rules or some on the other side? The Conservatives are —

Mulcair: I've been at this for a long time so whenever there's an individual case that you can hold up and say doesn't this require us to go back through all the rules what you're essentially asking is, what's your opinion on the horror of those crimes?

You can't get beyond that. No one is going to understate the horror of the crimes of Karla Homolka. It's not a question of what the federal government does or doesn't do or what the Parliament does or doesn't do after that. It's a question of whether or not the people in that community, a Christian community apparently from what we've read, find it in their hearts to ensure first and foremost the safety of their kids and the degree of atonement when somebody has paid their debt to society. I think those are tough ethical and moral questions.
With files from The Canadian Press