Nude sandals are supposed to create the illusion of long legs, but that look is only achieved when the shoe colour seamlessly matches the person's skin tone — which means it's never been accomplished ... until now.
Canadian flip flop company Tkees has solved the nude shoe dilemma by creating barely-there sandals for every skin tone.
Taking a page from cosmetic companies, Tkees launched a "foundation bar" in late May. The collection includes nine shades of nude flip flops in from a creamy seashell shade to a dark, deep glow.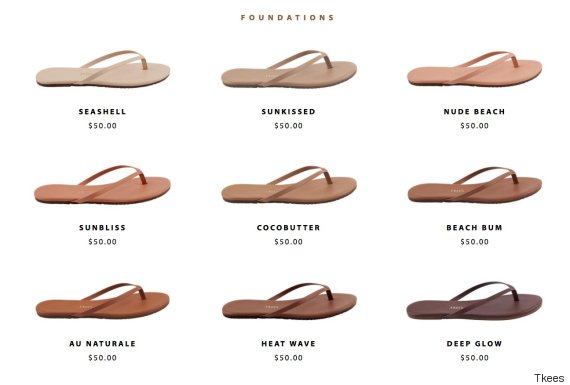 "Showing little girls that there is beauty in every colour is huge," said Catriona Smart, co-founder of Halo PR Group who worked on TKEES Foundation Bar campaign, in a press release.
Though they recognize nude sandals aren't going to change the world, Tkees says the collection was created to celebrate diversity and inclusivity.
The sandals, which can be purchased online and come in matte, gloss and shimmer, retail for $50 USD.
Now, to find a company that makes heels in these tones. Hello, legs that go on forever!