WOODSTOCK, Ont. — A former Ontario nurse angry with her career and personal life believed she was an instrument of God as she used insulin to kill vulnerable seniors in her care over the course of nearly a decade.
About seven months after her arrest last fall, Elizabeth Wettlaufer pleaded guilty Thursday to eight counts of first-degree murder, four counts of attempted murder and two counts of aggravated assault.
The crimes — which took place in three Ontario long-term care facilities and at a private home — make Wettlaufer one of Canada's most prolific serial killers.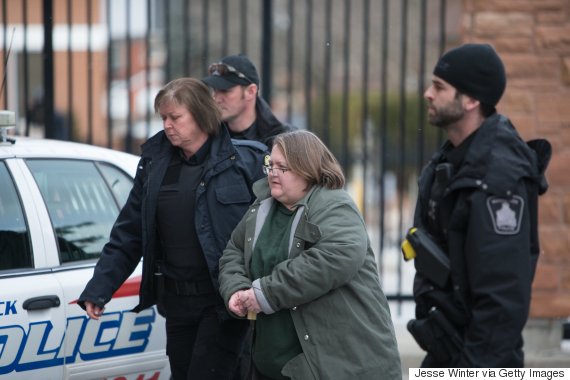 Elizabeth Wettlaufer is escorted into the Woodstock courthouse. (Photo: Toronto Star via Getty Images)
Emotional family and friends of her victims packed a courtroom in Woodstock, Ont., as the 49-year-old quietly said the word "guilty'' 14 times before a judge and admitted she used insulin in every case.
Prosecutors then laid out the details of each incident in an agreed statement of facts that included chilling revelations Wettlaufer made to police.
"Ms. Wettlaufer got that, 'red surging feeling' — and God telling her 'this is the one,''' a Crown lawyer told the court.
In many cases, a growing rage over her job and her life built up until Wettlaufer felt an "urge to kill,'' prosecutors explained. She said the feeling would only abate after she overdosed her victims.
Court heard that Wettlaufer was not intoxicated on drugs or alcohol when she killed or tried to kill. Many of her victims lived with dementia.
She told police she knew that "if your blood sugar goes low enough, you can die.'' She also told police she refrained from logging her use of insulin in order to avoid detection, court heard.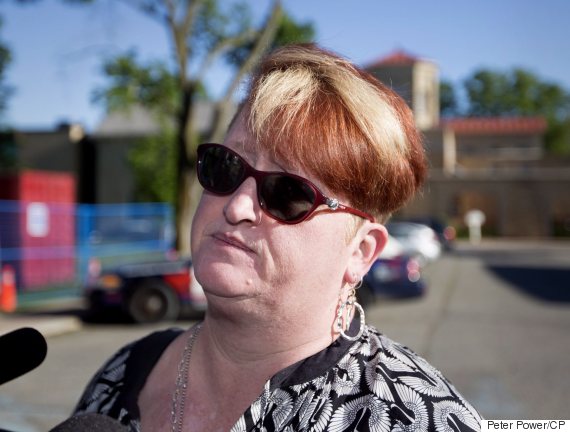 Laura Jackson, a friend of Morris Granat, one of former nurse Elizabeth Wettlaufer's alleged victims, enters the Provincial courthouse in Woodstock, Ont. on Thursday. (Photo: Peter Power/CP)
In Aug. 11, 2007, Wettlaufer deliberately injected James Silcox, an 84-year-old man with diabetes and Alzheimer's disease, with insulin, "hoping he would die,'' the Crown said.
"It was his time to go because of the way he acted,'' the former nurse told police, according to the agreed statement of facts.
Silcox was later found without vital signs by a personal support worker, court heard. That was Wettlaufer's first ``successful'' kill after two previous attempts failed.
Wettlaufer told investigators that afterwards, she felt "like a pressure had been relieved from me, like pressure had been relieved from my emotions.''
There were religious undertones to many of the killings, court heard, and in some cases, there was no motive other than "returning them to god,'' court heard.
"I honestly felt that God wanted to use me,'' she told investigators at one point about her efforts to kill one elderly woman.
Wettlaufer says she comforted victims' families
Wettlaufer would even comfort some of her victims' families. In one incident, court heard that she hugged the niece of a 90-year-old woman she had murdered.
The former nurse may have gotten away with the killings if she kept quiet. But, court heard, she told many people about killing patients with insulin, a practice that peaked shortly before she admitted herself to a psychiatric hospital in Toronto last September.
"It tore me apart. Tore me apart to hear how she killed my dad." —Susan Horvath
There she repeatedly confessed to the killings to doctors and staff, who told police.
"She insisted she wanted to be treated seriously,'' said Crown attorney Fraser Kelly.
She jumped at the chance for an interview with Toronto police, where she confessed again. Then she told the story, "with great recall and in great detail,'' to Woodstock police, Kelly said.
Some family members of Wettlaufer's victims broke down in the courtroom as the proceedings unfolded.
Susan Horvath, whose father was killed in 2014, called Wettlaufer a monster.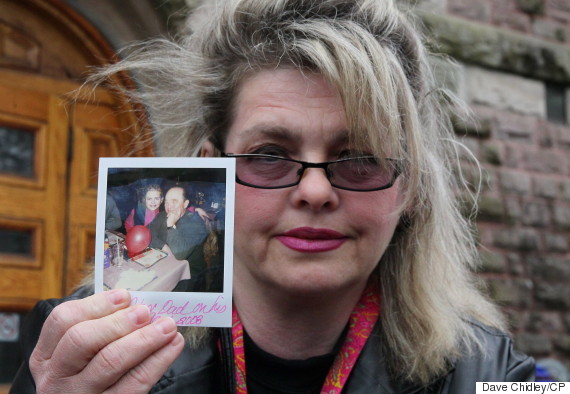 Susan Horvath, daughter of victim Arpad Horvath, holds a photo of her father from his 70th birthday as she speaks to the media outside the court house where Elizabeth Wettlaufer made an appearance in Woodstock, Ont. on April 21, 2017. (Photo: Dave Chidley/CP)
"It tore me apart. Tore me apart to hear how she killed my dad,'' she said outside court. "And she's sitting there, no expression on her face.''
Horvath said she could not forgive the former nurse and called for better oversight at the province's long-term care facilities.
"`I don't want my dad's death, and everybody's death, to just be wasted,'' she said. "Let's make a change.''
Records from the College of Nurses of Ontario show Wettlaufer was first registered as a nurse in August 1995 but resigned Sept. 30, 2016, and is no longer a registered nurse. She also faces a disciplinary hearing with the college, court heard.