MONTREAL — Raif Badawi's children are appealing to Prime Minister Justin Trudeau to personally call Saudi Arabian authorities to ask for their father to be freed as the fifth anniversary of his imprisonment looms.
"Now it's enough, we've waited too long, we need to see our father," one of the blogger's three children says in a French-language video message posted on Amnesty International's website Friday.
"Mr. Trudeau, pick up the phone, call the king of Saudi Arabia, so our father comes back," the message continues.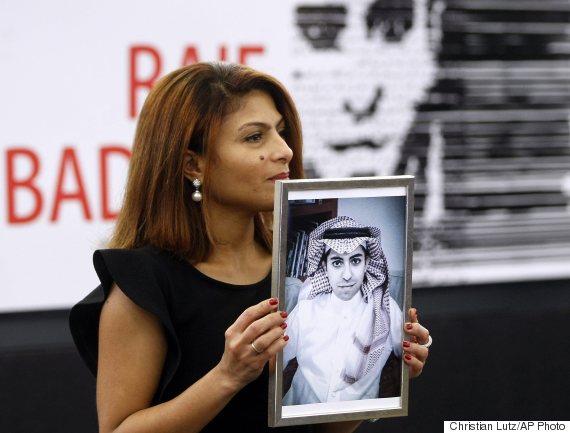 Ensaf Haidar, wife of the jailed Saudi Arabian blogger Raif Badawi, shows a portrait of her husband as he is awarded a human rights prize. (Photo: Christian Lutz/AP)
The Canadian chapter of the human-rights organization posted the video on its French-language website ahead of the anniversary of the Saudi blogger's arrest.
Badawi is not a Canadian citizen but his wife and children live in Sherbrooke, Que.
He was arrested in June 17, 2012 and later sentenced to 1,000 lashes and 10 years in jail for his criticism of Saudi clerics.
He received 50 lashes in January 2015 during a public flogging but has not received any since then.
His imprisonment has drawn widespread international condemnation and Amnesty International has accused Trudeau of not doing enough to free him.
In the past, Trudeau has said his government wants to help free Badawi but must tread warily.
While the department of Global Affairs has raised the case with Saudi authorities, Trudeau has appeared reluctant to intervene personally.
He told The Canadian Press in late 2015 that calling Saudi Arabia on Badawi's behalf was not in his "immediate plans" and it's unclear whether anything has changed since then.
In the video, Badawi's two daughters and son take turns speaking as photos of Trudeau posing with the family play in the background.
The children describe a previous meeting with Trudeau and their disappointment at his perceived inaction.
"We're very happy to meet you in person," the message reads. "You raised our level of hope, we hoped he would come back sooner.
"At the beginning the meeting, we were very happy. At the end, we were disappointed."
Amnesty International has organized a demonstration in Montreal on June 16 to mark the anniversary of Badawi's imprisonment.