The Vancouver Aquarium has rescued two seal pups, beginning what the aquarium calls "the busy summer rescue season."
The male pup, Princeton (named after Princeton, B.C.) was found alone near Glendale Cove, the aquarium wrote in a blog post. On Sunday, he was flown to Campbell River, then Vancouver.
The female, Georgina (named after Georgina, Ont.), was spotted avoiding boats at the Royal Vancouver Yacht Club.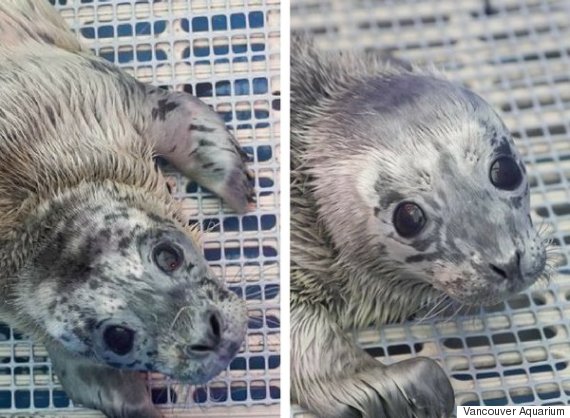 Seal pups Princeton, left, and Georgina are being treated at the Vancouver Aquarium. The two pups are getting a nutrient-rich formula and are being closely monitored. (Photo: Vancouver Aquarium)
Both pups were underweight, covered in premature fur and had remains of their umbilical cords still attached. Princeton weighed 7.3 kilograms, and Georgina weighed 6.1.
"This is the start of pupping season along our coast, so at this time of year, you'll sometimes see newborn pups left to rest while their mothers forage for food. The mother will usually come back," Lindsaye Akhurst, manager of the aquarium's Marine Mammal Rescue Centre, wrote in the post.
"We ask those who find a seal pup not to touch it and to keep their pets away. Call us, and we'll assess the animal."
Follow HuffPost B.C. on Facebook, Twitter, and Instagram
Also on HuffPost:
Stranded Seal Rescued From Snow Bank