Former Laval mayor Gilles Vaillancourt, who was sent to jail after pleading guilty to fraud charges and surrendering $9 million in cash, retirement pensions and real estate to authorities as part of a plea bargain, has not handed over all assets his family amassed during his years of crime.
HuffPost Quebec has learned that Vaillancourt and his wife Francine Dupuis have quietly hung on to a luxury oceanfront Miami condominium, property records show, with an assessed market value of almost $900,000 — and it's likely worth even more in the area's hot real estate market.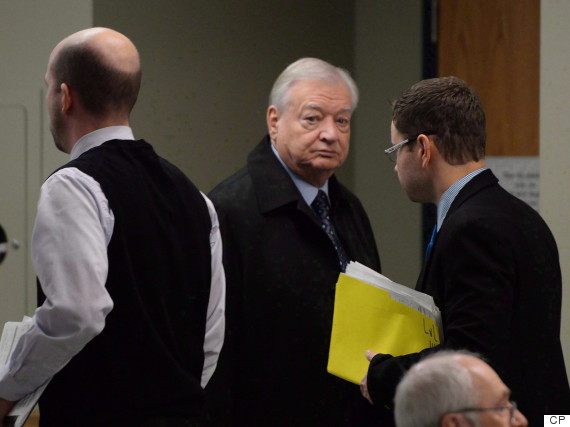 Former Laval mayor Gilles Vaillancourt arrives for a court appearance in Laval, Que. on Dec. 1, 2016. (Photo: Ryan Remiorz/Canadian Press)
The couple obtained the condo — which is registered in Francine Vaillancourt's name — under unusual circumstances. It involved a transfer by an offshore company registered in the Bahamas while Vaillancourt was still mayor of Laval, according to Florida real estate documents.
Dupuis bought the two-bedroom residence in the 54-unit Tropicana condo project in 2006 for US$160,000 in cash from Florim S.A., a Bahamian shell company.
The total price paid was about US$258,000 or 60 per cent below its market value at the time. The owners of the offshore company and their links to the Vaillancourts remain a mystery .
The purchase price was also considerably below what others paid for residences in the nine-storey, 54-unit building in 2005 and 2006.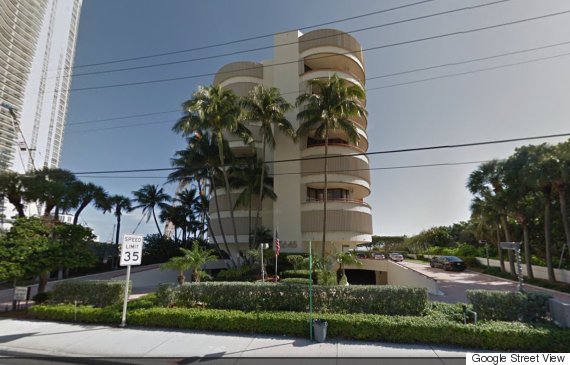 Two-bedroom, two-bathroom apartments in the Tropicana condo in greater Miami are listed in the range of US$949,000 to $1.5 million.
Nadine Touma, Vaillancourt's criminal lawyer, turned down interview requests for this story.
She also declined to answer written questions about the Vaillancourt Florida condo, the circumstances of how it was acquired, or the plea bargain between Vaillancourt and the City of Laval.
In an email to HuffPost Quebec, Touma said: "I have no comment to share."
Asked in 2013 about the incredible discount she got on the condo purchase price, Ms. Dupuis Vaillancourt refused to discuss the circumstances surrounding the purchase, adding, "It's none of your business."
Jean Pascal Boucher, a spokesman for Quebec's Director of Criminal and Penal Prosecutions, said his office merely approved a deal reached between lawyers for the City of Laval and for Vaillancourt. It was also approved by a Quebec judge, Boucher added.
"The total value of the amounts recovered is $9 million. I am satisfied that we have obtained all that we could from Mr. Vaillancourt."
— Laval Mayor Marc Demers
Under his plea bargain with a Quebec Crown prosecutor, the 75-year-old Vaillancourt pleaded guilty to a string of fraud, conspiracy and breach of trust charges. He was sentenced to six years in jail, but will likely be released on probation in one year or less.
In exchange, the Crown agreed to drop more serious charges of gangsterism against Vaillancourt on condition that the ex-mayor:
Reimburse the City of Laval about $7.5 million worth of cash kickbacks and payoffs he collected and stashed in Swiss bank accounts
Surrender title to a $1-million condominium on Ile Paton in Laval, north of Montreal, to the city government which he oversaw for 23 years
Forfeit his City of Laval pension as mayor, worth about $30,000 a year or $500,000 if he lives another 16 years
Not included or even mentioned in that deal, details of which were outlined on the city's web site, was the oceanfront condo in Florida, both Boucher and Laval's director of legal affairs confirmed in separate interviews.
In announcing the plea deal with Vaillancourt in December, Laval Mayor Marc Demers — who is a former police investigator — said the city secured as much as it could squeeze from Vaillancourt, who resigned in 2012.
"The total value of the amounts recovered is $9 million. I am satisfied that I have obtained all that we could from Mr. Vaillancourt," said a news release from Demers in French. "The damages he caused citizens are likely higher still, but we had to take into account his assets and I am certain we have obtained the maximum."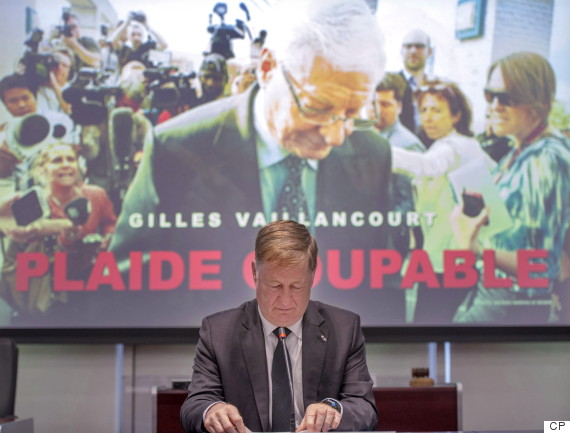 Laval Mayor Marc Demers speaks to the media about Gilles Vaillancourt's guilty plea on corruption charges on Dec. 1, 2016. (Photo: Ryan Remiorz/Canadian Press)
The City of Laval omitted important details of its agreement with Vaillancourt from that news release.
The agreement with Vaillancourt provided that the couple would get to keep all assets registered in Vaillancourt's wife's name.
Demers did briefly mention that aspect of the deal at a short press conference, but did not specify what these assets were, where they were located, or how much they were worth.
Market evaluation of almost $900,000
Today, the Vaillancourt couple's 1,283 sq.-ft. oceanfront Tropicana condo in Sunny Isles Beach — one of Miami's most sought-after and expensive areas — has a municipal market evaluation from the Miami-Dade Assessor's office of US$650,000 (almost C$900,000).
Five other units in the building are listed for well above that, ranging from US$949,000 to $1.5 million for similar two-bedroom, two-bathroom apartments. The latest sale in 2016 was for US$900,000 U.S.
Those prices would make the Vaillancourt condo a valuable asset for police investigators and prosecutors seeking to freeze and recover the proceeds of Vaillancourt's offences, especially if it was bought with the proceeds of crime.
In Quebec municipal corruption cases, several politician and bureaucrat suspects have placed homes in their wives' names to hide or shield them from official seizures.
No attempts to seize condo
Yet Simon Tremblay, Laval's director of legal affairs, said that authorities knew of the condo and never tried to seize it.
"It isn't included. This condo has been owned by his wife since 2006," Tremblay told HuffPost Quebec.
Asked why the City of Laval did not go after the asset as part of the deal and given how it was acquired from an offshore company at a substantial discount, Tremblay suggested the condo was only valued at the sales price of $160,000.
"Overall, we did our due diligence," he said in an interview. Tremblay declined to explain what was checked as part of this due diligence.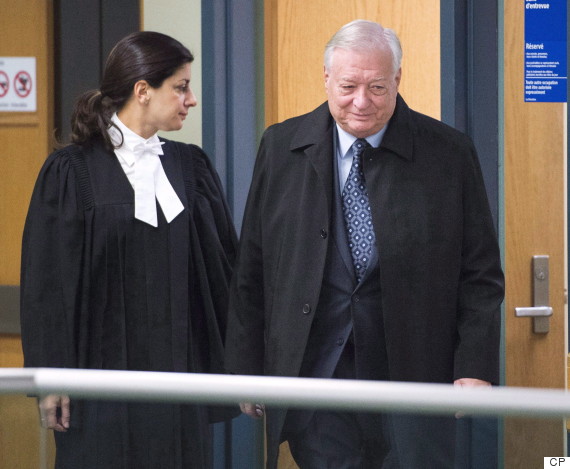 Former Laval mayor Gilles Vaillancourt heads to the courtroom to enter his guilty plea on corruption charges on Dec. 1, 2016. (Photo: Ryan Remiorz/Canadian Press)
When told about the condo's current assessed value of close to $900,000 Canadian and that it would likely fetch more on the current market, Tremblay replied: "It's easy to take a couple of facts and put them together to try and discredit what we were able to do."
He continued, "We're very satisfied with the results and the agreement we obtained. We consider that under the circumstances, that's all we could obtain."
The City of Laval sued Vaillancourt and others for $12.8 million in 2015 but later dropped the civil lawsuit. The Quebec prosecutor estimated in court that the corrupt ex-mayor's fraud and corruption had netted him tens of millions of dollars between 1996 and 2010.
"I sincerely regret the errors I made and the grief I have caused my family, my friends and especially the citizens of Laval," Vaillancourt told Quebec Superior Court Justice James Brunton when he was sentenced in December.
"I did great things in Laval but the errors I made are not acceptable. I understand that. I hope to serve my sentence as quickly as possible and try to become an asset to society once again."
Andrew McIntosh is an award-winning investigative journalist based in Seattle.