TORONTO — The High Commission of Canada in the United Kingdom is confirming that a Canadian has been "impacted" by Saturday night's deadly terrorist attack in London.
A commission official could offer no further details, but says their emergency response team is working closely with British authorities.
The federal government is advising Canadians to be vigilant in the wake of Saturday night's deadly terrorist attack in London.
The government and diplomats on the ground in London advised travellers to avoid the affected areas, follow the instructions of local authorities and monitor local media.
Full Coverage Of The London Attacks



Justin Trudeau called news of the attack on London Bridge and nearby Borough market "awful" in a tweet Saturday night. The prime minister also made a brief statement at the Press Gallery dinner in Ottawa. "Canadians stand united in sending our love and support to our friends in London. We stand with you all," he said. Conservative leader Andrew Scheer tweeted that he was "horrified by the events in London" and that Canada would always stand with the people of London.
Awful news from London tonight. We're monitoring the situation - Canadians in need of help please see below: https://t.co/NVHwMlD2uu

— Justin Trudeau (@JustinTrudeau) June 3, 2017
Ontario Premier Kathleen Wynne said in a tweet that Canadian hearts were heavy with the news of the violence in London. The carnage began around 10 p.m. local time when police and witnesses said a white van barrelled into pedestrians on London Bridge. They said three men armed with large knives then fled the van and started attacking people at bars and restaurants in nearby Borough Market.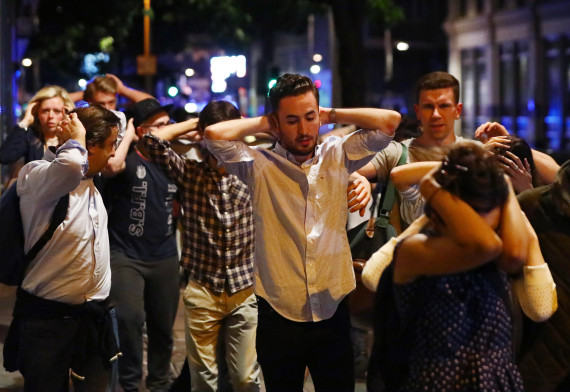 People leave the area with their hands up after an incident near London Bridge in London, Britain June 4, 2017. (Neil Hall/Reuters)
Police said seven people were killed and more than 40 others were wounded, some critically, before officers shot and killed the three suspected assailants. The violence turned a warm spring night in an area packed with revellers into a scene of panic and chaos, with officers running through crowded streets screaming for people to flee. With files from The Associated Press