It's all about knowing your history.
Prime Minister Justin Trudeau was the first guest on "Live with Kelly and Ryan" Monday morning as TV hosts Kelly Ripa and Ryan Seacrest started a stint in Niagara Falls, Ont., and they were quick to inform their audience that he was the son of a former Canadian prime minister.
The interview started with some questions on Trudeau's Instagram snaps — something Canadian audiences are already more than familiar with (he likes to take off his shirt on vacation, he wears interesting socks, you get the picture.) The conversation later delved into his dual life as a dad and politician.
"Do you secretly want one of [your kids] to become the next prime minister?" asked Ryan Seacrest.
"Definitely not," replied Trudeau. "My father would have given the same answer."
Ripa pushed him on the topic again a little later in the interview, asking him which one of his three kids he'd predict would lead the country.
"I will say I have one daughter, and there is something very special about imagining a woman prime minister."
"I will say I have one daughter, and there is something very special about imagining a woman prime minister," Trudeau said. "I think it's long overdue, I just don't think we have to wait that long. I think it should be sooner than that."
A great answer ... except this woman might have something to say about that.
Yes, Canada has already had a female prime minister and her name is Kim Campbell.
She ran the country from June 25 to Nov. 4 in 1993. And while she didn't win on a national level — she was elected as the leader of the PC Party after Brian Mulroney retired earlier that year, and was appointed prime minister from there — she is still very much identified as having been Canada's only woman prime minister.
We're being nitpicky, we get it. But hear us out.
Trudeau went on "Live" to promote Canada and its upcoming 150th birthday. He's talking to American viewers, many of whom don't have a lot of familiarity with Canadian politics. Don't you think it's worthwhile to be accurate about which prime ministers have graced the hallowed halls of Parliament Hill when you're on that mission?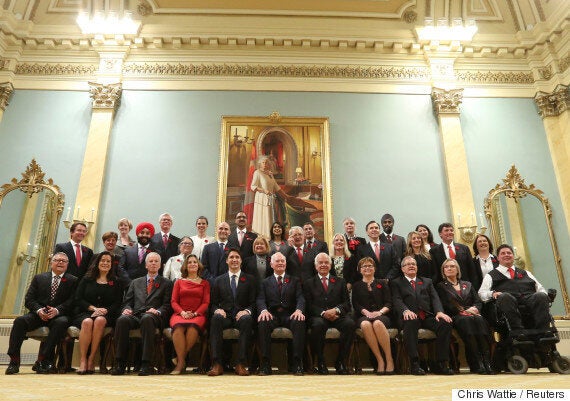 Trudeau has been very vocal about his position as a feminist, and his gender-balanced cabinet was a step in the right direction for more women in positions of power.
But forgetting the people who have already achieved leadership roles doesn't help anyone.
It's not something you need to imagine, Canada. It's just something you need to help make happen again.
UPDATE: Cameron Ahmad, Prime Minister Trudeau's press secretary, tells HuffPost, "Of course the prime minister did not forget that Kim Campbell was prime minister. Now, that was almost 25 years ago, and I think we can all agree we're overdue after 25 years."
CORRECTION: This article originally referenced Kim Campbell as not being "an elected prime minister." Since it's political parties and not people elected in Canada, that was inaccurate. Campbell's role in the PC Party has been clarified.
Stay On Top Of The Trends

Get the biggest lifestyle news sent to your inbox