HALIFAX — Nova Scotia's medical examiner has ruled out conducting a fatality inquiry into a horrific murder suicide involving a former Canadian soldier who killed his wife, mother and young daughter before killing himself in the family's rural home earlier this year.
Lionel Desmond, a 33-year-old veteran of the war in Afghanistan who suffered from post-traumatic stress disorder, took his own life after shooting his 52-year-old mother, his wife Shanna, 31, and their 10-year-daughter Aaliyah.
The killings on Jan. 3 in Upper Tracadie, N.S., prompted a difficult debate over soldiers with PTSD, domestic violence and what should be done to prevent such tragedies.
Autopsy records have since been handed to the family's nearest relatives, but medical examiner Dr. Matt Bowes has decided not to conduct an investigation under the province's Fatality Investigations Act, spokeswoman Sarah Gillis said in an emailed statement. She did not offer reasons for the decision.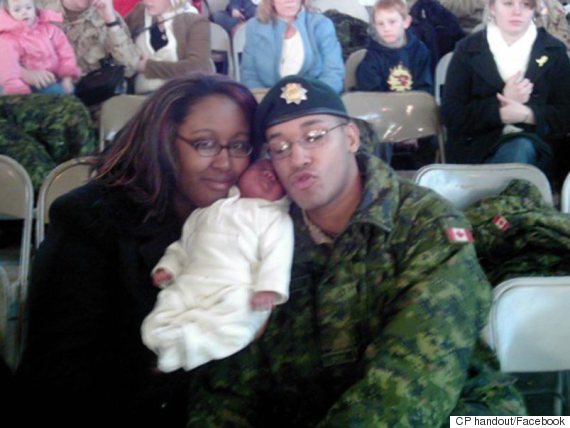 Lionel Desmond with his daughter Aaliyah and wife Shanna in a Facebook photo. (Photo: Canadian Press handout/Facebook)
Catherine Hartling, Shanna Desmond's aunt, has renewed her call for some sort of public inquiry, saying other family members want the same thing but are still too distraught to speak out.
"A lot of them are going through a lot of stress right now,'' Hartling said in an interview from her home, across the street from the house where the four bodies were found. "A lot of them have ... emotional problems.''
Hartling said it's a particularly difficult time for the Desmond side of the family because they are preparing for a burial service on June 24 for Lionel Desmond and his mother. A funeral service was held down the road at a large church in Tracadie on Jan. 11.
"We've been all just trying to hang in there,'' she said, adding that Shanna Desmond and daughter Aaliyah are to be buried in August.
'I haven't heard nothing'
Despite her profound grief — compounded by the fact that her 47-year-old sister died in March — Hartling said she is still looking for answers to some tough questions about what happened to Lionel Desmond. She said she raised the issue with the RCMP at a meeting in March.
"I was telling them that I would like to see an inquiry take place into this,'' she said. "I haven't heard nothing.''
Desmond served in Afghanistan in 2007, and had received treatment from a joint personnel support unit in New Brunswick for a year prior to his release from the military. Such units provide support to ill and injured soldiers, including mental injuries.
Neither National Defence nor Veterans Affairs Canada have committed to investigating the treatment Desmond received before and after his release from the military in July 2015.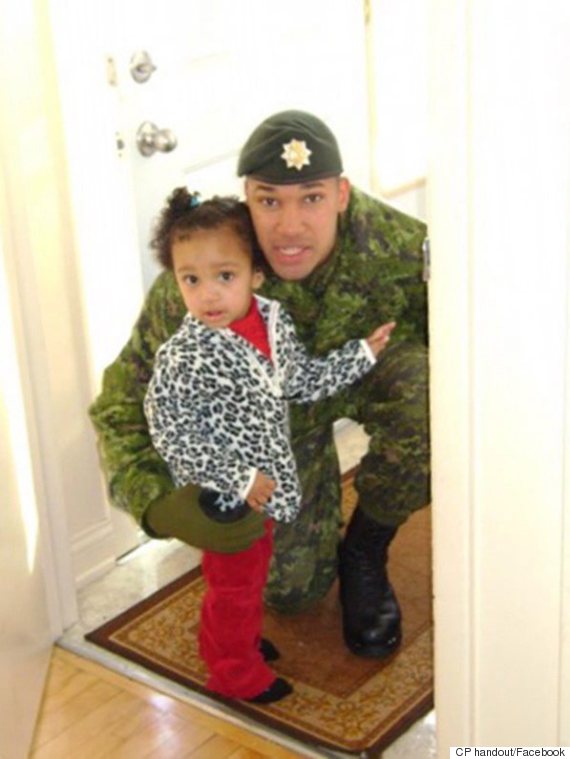 Lionel Desmond with his daughter Aaliyah in a Facebook photo. (Photo: Canadian Press handout/Facebook)
Immediately after the killings, some of Lionel Desmond's relatives said he was not getting the help he needed once he returned home. Questions were also raised about the care he received at the hospital in nearby Antigonish, N.S., which has its own mental health unit.
At the time, Nova Scotia Premier Stephen McNeil said an investigation would look into how the province's health-care system dealt with Desmond.
However, a spokeswoman for the Nova Scotia Health Authority said the "quality review'' would not be released to the public.
"That is a confidential process focused on learning and improving,'' Kristen Lipscombe said in an email.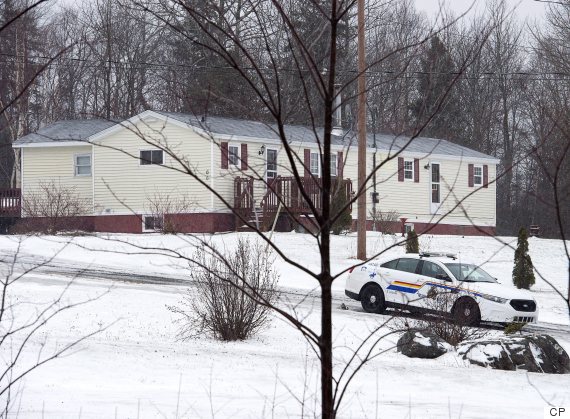 Police investigate a horrific murder suicide involving a former Canadian soldier who killed his wife, mother and young daughter before killing himself in Upper Big Tracadie, N.S. (Photo: CP)
PTSD has been the top diagnosis for the hundreds of troops released from the military for medical reasons each year since at least 2014. Some 18 military personnel took their own lives in 2015, many of whom had sought some type of mental-health treatment shortly before their deaths.
The Canadian Forces and Veterans Affairs have opened specialized clinics, hired more staff and cut red tape in recent years to provide better care and support as more military personnel have come forward seeking help for PTSD and other disorders.
But some critics wonder whether Ottawa has done enough.
On the same day relatives discovered the slain family members, Canada's military watchdog urged the federal government do more for soldiers forced out of the Canadian Forces for medical reasons.
Ombudsman Gary Walbourne said he wants Ottawa to ensure injured military personnel have all the necessary benefits and supports in place before they are forced to turn in their uniforms. He also said significant barriers persist in terms of accessing services and benefits.