In the end, the first exchange in the House of Commons between Prime Minister Justin Trudeau and Official Opposition Leader Andrew Scheer was a classy one.
Monday marked the first question period Trudeau has attended since Scheer became the Conservative leader. His new chief rival kicked things off by reflecting on the terror attack in London, U.K. on Saturday.
&nbsp
"I want to thank the prime minister for his statement and I trust that all members stand in solidarity at this time," Scheer began.
The new Tory leader noted how Christine Archibald from British Columbia was killed in the attack. Archibald was a former social worker who helped homeless people before moving to Europe to be with her fiancé.
Scheer noted how Archibald's family is asking Canadians to volunteer their time and money to homeless shelters in her name, and "tell them Chrissy sent you."
"I want to echo that sentiment today," Scheer said, before asking for an update on the government's response to the attack.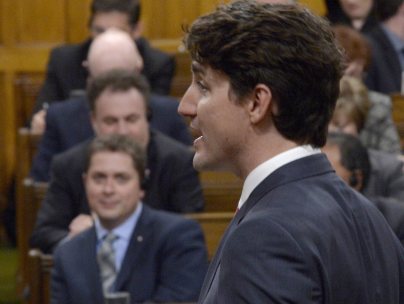 New Tory Leader Andrew Scheer listens to Prime Minister Justin Trudeau in question period on June 5, 2017. (Photo: Adrian Wyld/The Canadian Press)
The prime minister also expressed condolences to Archibald's family and friends. Trudeau said he had just spoken with British Prime Minister Theresa May to convey how Canadians stand in solidarity with all British people.
"I thank the leader of the Official Opposition for his question and I look forward to working with him on issues of import to all Canadians," Trudeau said.
Liberal MPs and many Conservatives rose in a standing ovation.
Before question period, MPs held a moment of silence for Archibald, who hailed from Castlegar, B.C., and all other victims.
'She had room in her heart for everyone'
NDP MP Murray Rankin, Tory House Leader Candice Bergen and Liberal MP Stephen Fuhr also paid tributes with speeches to the House.
Rankin noted how Archibald died in her fiancé's arms after three terrorists "turned a van into a weapon."
"Christine has been described as a bright light by those around her. She dedicated her life to helping the homeless and people suffering from addictions," Rankin said.
"Her family said that she had room in her heart for everyone and believed everyone was to be valued and respected. Her life deserved that same respect."
With a file from The Canadian Press