In rural Alberta, there's a debate brewing over student dress codes — and, of course, it's girls' outfits that have come under fire.
A note appeared in the halls of Breton High School recently, telling girls to dress conservatively to avoid distracting boys.
'When you wear little to no clothing and dress provocatively because it's 'too hot out' or because you think it's 'attractive,' you are putting boys at risk of having a distracting working environment and saying, 'your clothing is more important than their education,'" the note read.
"Instead of dressing like a THOT, value the male education and dress conservatively."
Urban Dictionary defines THOT as slang acronym for "that ho over there."
Parents told Global News that the poster was put up by students in response to an earlier note that appeared in the girl's bathroom.
"When you interrupt a girl's school day to force her to change her clothes, or send her home because her shorts are too short or her bra straps are too visible, you are telling her that making sure boys have a 'distraction free' environment is more important than her education," that note read.
"Instead of shaming girls for their bodies teach boys that girls are not sexual objects!!!"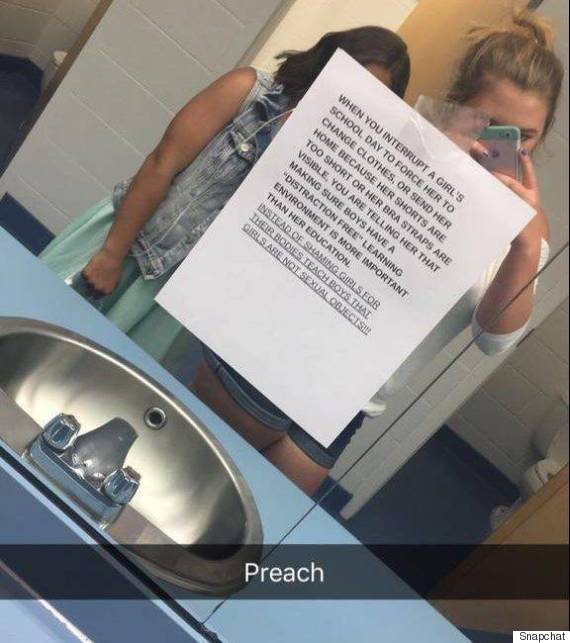 A widely-circulated photo of the note that appeared in the girl's bathroom at Brenton High School. (Photo: Snapchat)
Wild Rose School Division superintendent Brad Volkman told the Edmonton Journal that both signs were written by students and quickly taken down.
In a note sent home to parents, Principal Lara Jollymore said the use of the "inappropriate" 'THOT' acronym was being addressed and students were being reminded to be respectful when expressing their opinions, reports Global News.
Jollymore said the school will continue to enforce the dress code.
"Instead of shaming girls for their bodies teach boys that girls are not sexual objects."
According to the 2016-2017 student handbook, skirts and shorts must be longer than arm's length, and the inseam of shorts must be at least one hand-length long. As well, the code says all underwear, cleavage, navels and bra straps must be covered.
On Virgin Radio Edmonton's Facebook post discussing the issue, most people argued that it shouldn't be up to the girls to ensure boys aren't becoming distracted, and that girls should not be policed for what they wear:
This isn't the first time dress codes have made headlines in Alberta.
Schools in both Calgary and an Edmonton came under fire in 2016 for dress codes that students said shamed girls for wearing comfortable clothing, especially in the warmer summer months.
The Most Important Stories Sent To You

'The Daily Brief' connects you with our best stories sent right to your inbox.