Roll over, bear-thoven.
Oh wow, that was a terrible pun. But if you think that was bad, police in Vail, Colo. seemingly had a great time writing a news release last week.
Officers were called to an apartment after a bear crawled through a window to help himself to some food last week.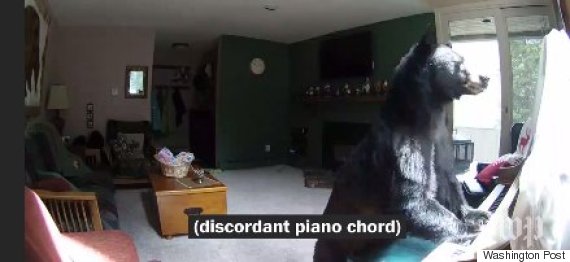 Existential Crisis Piano Bear makes an appearance at a Colorado woman's apartment. (Screengrab)
Katie Hawley told CBS Denver she had left her kitchen window unlatched and closed.
She called police after she came home to find her place trashed. Hawley initially thought it was a burglary, but that changed after police reviewed surveillance footage.
Video of the bear bumbling around Hawley's home — and at one point standing with paws placed on her piano — likely gave way to some guffaws at the department.
Following the report to police, the resident checked her internal camera system, which captured the event on video. The bear was seen wandering around the apartment and at one point went to a piano putting its paws on the keys playing a few notes. The chords captured on video were unbearable and the tune was equally grizzly, according to police.
Beary cute.
Follow The Huffington Post Canada on Facebook, Twitter, and Instagram
Also on HuffPost
Photo gallery
Hilarious Notes From Kids
See Gallery