HALIFAX — The federal government detailed its plans Friday to create a special unit to support injured Armed Forces members as they prepare a return to civilian life. Treasury Board President Scott Brison spoke at a Halifax military family resource centre, two days after Ottawa announced a revamped defence policy which proposes to spend an added $198 million on health and wellness in the next decade. He said the money will help fund a 1,200-person Canadian Forces Transition Group to begin "over the next several years." It will include 400 specialized staff and 800 personnel "whose only mission will be to heal" from physical and psychological injuries, including PTSD.
Personnel in the Canadian Forces Transition Group's "only mission will be to heal."
Nova Scotia was the scene earlier this year of a tragic murder suicide where former soldier Lionel Desmond — who was being treated for mental illness — fatally shot his wife, daughter and mother. The Jan. 3 killings in Upper Big Tracadie, N.S., prompted a difficult debate over soldiers with PTSD, domestic violence and what should be done to prevent such tragedies. Brison stopped short Friday of promising any public review into the tragedy by Ottawa, but said the federal government will learn from the internal review of Desmond's suicide as it crafts new policies on transitioning personnel to civilian life. "It reminds of the urgency with which we need to take this on," he said. "We get this and it's one of the reasons we're making the investments."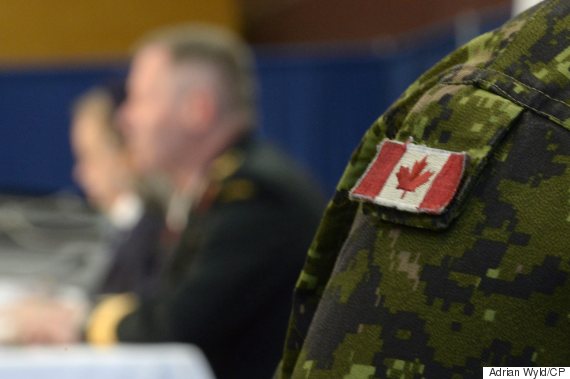 A member of the military looks on as Defence Minister Harjit Sajjan unveils the Liberal government's vision for expanding the Canadian Armed Forces in Ottawa on Wednesday. (Photo: Adrian Wyld/CP)
Maj.-Gen. Wayne Eyre, deputy commander of military personnel, said in a telephone interview that the unit expands the number of people on "restricted employment" who can be helped as their military jobs are backfilled. He said there are currently only "a couple of hundred" of spots where personnel can leave their jobs for treatment and transition out of the Forces while someone fills in for them. Others using transition services may be leaving jobs vacant, decreasing the Forces' capacity. Eyre said the change means up to 800 people can be in the transition unit while their jobs are backfilled. "We're getting the money we need for this," said Eyre. Eyre said there are plans to hire more staff for the transition unit by this summer, though he was unable to provide specific figures. The general said the unit will eventually be capable of providing about 30 days of assistance to all departing personnel. Meanwhile, the defence review has called for 200 more medical staff, some of whom could be assigned to help personnel who have mental or physical injuries as they prepare to leave the Forces.
Also on HuffPost
Photo gallery
Mental Health: 7 Signs That May Signal PTSD
See Gallery