Donald Trump recently embarked on the first foreign trip of his presidency, visiting Europe and the Middle East. According to a new poll, he might not want to add Canada to his future travel itinerary.
A poll released Saturday by Abacus Data found 39 per cent of Canadians think Trump is the worst president in U.S. history.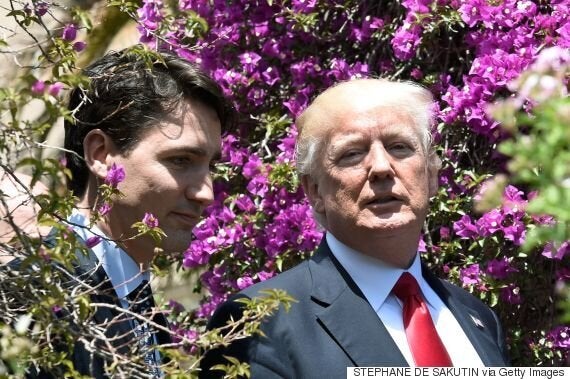 Another 29 per cent say Trump is just "one of the worst," while just 10 per cent think he's an average president. Two per cent answered that he's the best president ever.
Abacus asked Canadians to assess Trump's impact on the environment, America's image and Canada's economy. On every item, upwards of two-thirds of those surveyed said he had a negative impact.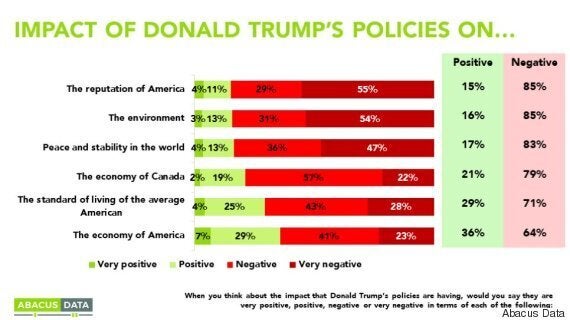 "It's common for Canadians to have tepid feelings for Republican presidents. But these numbers go far beyond any norms I can recall," said Abacus chairman Bruce Anderson in a news release. "They reveal profound dismay about the character and personal attributes of Mr. Trump as well as fear that he is causing harm to the world, to the interests of Canadians, and to the very people who elected him,"
Canadians were also asked how they thought Trump performed at the G7 meeting in Italy. Seventy-seven per cent of respondents said the president represented America poorly, and one in two respondents felt that his approach reflected "very poorly."
When given a series of different words, both positive and negative, to describe Trump, Canadians were pretty harsh, with a majority describing him as rude, mean, unethical, thoughtless, and ignorant. Only 14 per cent said they think he is ethical.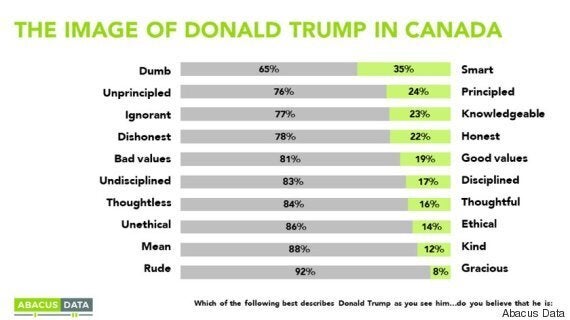 Canadians were not divided by party lines when it came to their views of the U.S. commander-in-chief, either. Liberals supporters were more critical, and more than two-thirds of Conservative voters say Trump is rude, mean, unethical and thoughtless.
There were also only slight differences between how women and men viewed Trump, and baby boomers and millennials had almost the same opinion of Trump — a negative one.
Trump isn't faring that well in the U.S., either. Statistics and polling website FiveThirtyEight said as of Saturday, 55.9 per cent of Americans disapprove of Trump, and only 38.1 per cent approve — a rating lower than any president since 1945 at this date in their presidency.
The Abacus Data survey was conducted online with 1,518 Canadians over the age of 18 from June 2 to 5. A random sample completed the survey from a larger representative panel of over 500,000 Canadians. The data was weighted to census data. Abacus didn't offer a margin of sampling error, but the margin for a comparable probability-based random sample of the same size is +/- 2.6 per cent, 19 times out of 20.