Canadians and Americans agree on one thing: Airlines suck.
Roughly two-thirds of people in both countries agreed that the airline industry is dysfunctional in a new poll from the Angus Reid Institute.
Respondents were asked whether they saw airlines as "working well," with competition leading to the best combination of prices and service, or whether they saw it as "broken" and "operating like a cartel."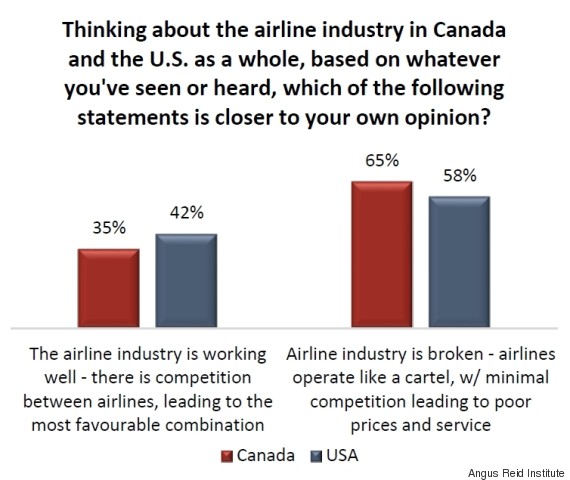 The survey, which Angus Reid funded itself, was carried out from May 24-28, in the wake of the infamous passenger-dragging incident on a United flight at Chicago's O'Hare International Airport.
That was followed by several other stories reflecting poorly on airlines, including an incident in Charlottetown, P.E.I., in which a 10-year-old boy travelling with his family was bumped off an Air Canada flight to Costa Rica.
The incident led to a few changes in the industry, with United upping the amount of money it offers bumped passengers, and Southwest announcing it would no longer overbook flights.
Where Canadians and Americans differed is on what to do about the airline industry. While nearly two-thirds of Canadians agreed that stricter government regulations would help, only 37 per cent of Americans agreed.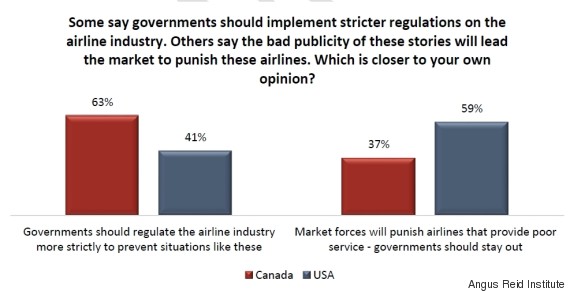 The survey found that, among Americans, United scores the worst on passenger satisfaction, with Southwest and Jetblue coming out on top among major airlines.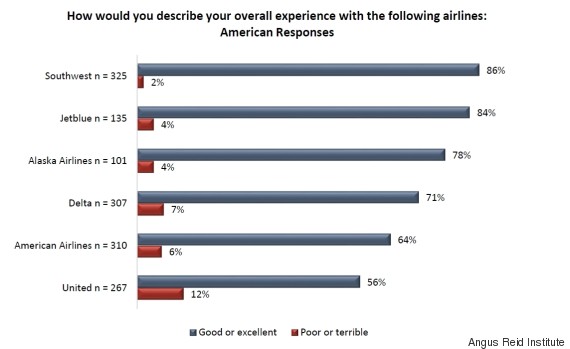 Perhaps surprisingly, among Canadian respondents, Air Canada scored worse than United did among American respondents.
Seventeen per cent of Canadian respondents said they had a "poor" or "terrible" experience with Air Canada, compared to 12 per cent of Americans who felt that way about United.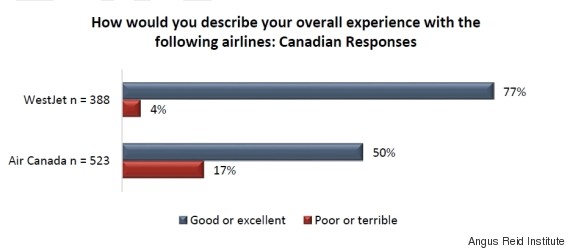 Shachi Kurl, executive director of the Angus Reid Institute, suggests that this has to do in part with the greater degree of consolidation in Canada's airline industry than in the U.S. After all, Canada has only two major airlines.
"For many routes, chances are you are dealing with Air Canada," she told HuffPost Canada.
Canadians, overall, seem somewhat more pessimistic about the airline industry as a whole. For instance, 76 per cent north of the border agree that the negative media coverage of United and other airlines shows that airlines "have a serious problem with customer service," but a smaller majority (66 per cent) of Americans agree.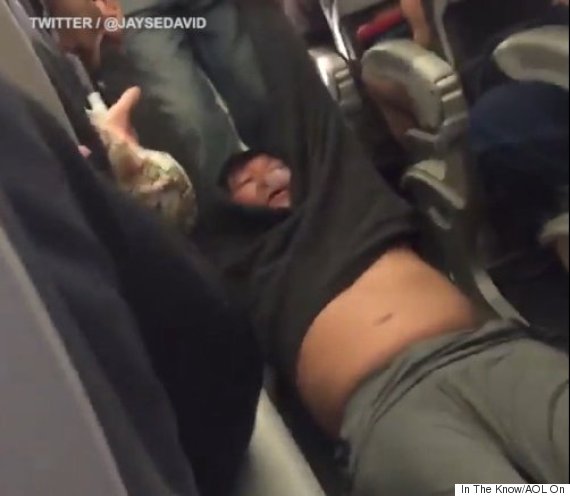 If Canadians are more negative about their airlines, it may simply be due to a lack of experience with U.S. airlines, Kurl suggested.
"They haven't seen how no-frills or how just stripped-down it can get," she said, adding that she's inferring from personal experience.
"It could just be that Canadians don't have a sense of how much worse it might be."
The Most Important Stories Sent To You

'The Daily Brief' connects you with our best stories sent right to your inbox.

Follow HuffPost Canada on Facebook, Twitter, and Instagram.
Also on HuffPost