Loved ones do not yet know who will care for a boy whose mother was killed trying to stop a gas-and-dash in 2015 and whose father died in a crash on his way to mark the anniversary last week.
Maryam Rashidi had been working at a Calgary gas station in June 2015 when she was run over by Joshua Mitchell as he fled in a pickup truck with a tank full of stolen gas. A jury found Mitchell guilty of manslaughter last month and he is to be sentenced in August.
Rashidi's widower, Ahmad Nourani Shallo, moved to Vancouver with their son, Koorosh. a few months after the gas-and-dash tragedy.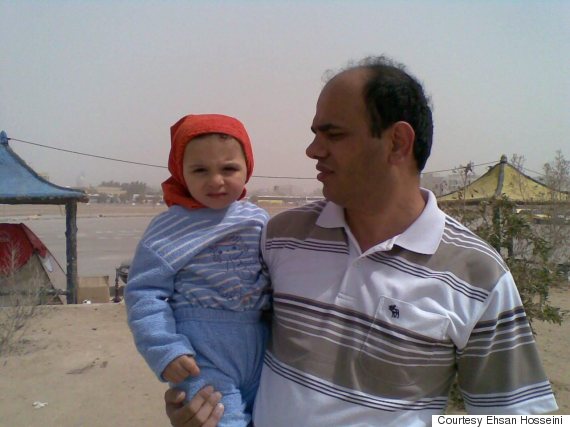 Ahmad Nourani Shallo and his son Koorosh are seen in an undated handout photo. (Photo: Ehsan Hosseini via CP Handout)
"Ahmad was trying to be isolated from everyone and the reason is he just wanted to get away from the chaos caused by Maryam's death," said Ehsan Hosseini, who befriended Shallo after Rashidi died.
Shallo, his second wife and Koorosh were driving from Vancouver to Calgary last Thursday. Shallo was planning to visit Rashidi's grave on the second anniversary of her death.
RCMP say a white Mazda was involved in a five-vehicle collision during a rain storm just outside Glacier National Park in the B.C. Interior and the 40-year-old male driver died at the scene. An eight-year-old boy and a woman were taken to hospital.
Boy was sleeping in back seat
Hosseini said Koorosh was sleeping in the back seat and had only a few scratches. The boy's stepmother suffered fractures to her face and is hospitalized in Kamloops, B.C.
Koorosh has been staying with a relative of his stepmother in Vancouver. Shallo's parents arrived in Vancouver from Iran on Sunday.
"For an eight-year-old boy, it's a really tough time to go through," said Hosseini.
"Two years ago at the age of six he lost his mom and now he lost his dad as well. So it's very shocking for him."
"He's a very quiet kid. He doesn't show his emotions."
There is a court date set for Friday to determine what's next for Koorosh. Friends say Shallo had a will, but they don't now yet what his wishes were for his son.
Gina Masnadi, another friend, said Koorosh's stepmom underwent surgery and has weeks of recovery in front of her.
Masnadi said she got to know the boy after he lost his mother.
"He's a very quiet kid. He doesn't show his emotions."
The Most Important Stories Sent To You

'The Daily Brief' connects you with our best stories sent right to your inbox.