Kate Beckinsale likes to keep things real. That's why the actress took to Instagram on Saturday to share what an unconventional family actually looks like.
A cute Instagram video shows the "Underworld" star, her ex, Michael Sheen, and their 18-year-old daughter, Lily, strutting into the teen's high school graduation. In the caption, Beckinsale revealed that she is thankful for the "good hearts, and loyalty and friendship" in their family.
"We may not be a conventional family but we have love and humour and respect and care and I am proud to have walked this far with both of you and to have @lily_beckinsale walk us into the future," the 43-year-old wrote.
"God bless love, and good hearts, and loyalty and friendship, and may we all have more and more of it and make more and more of it in the world ❤️."
Beckinsale and Sheen dated for eight years before ending their relationship in 2003. At the time, their daughter Lily was only four years old. Despite this, the former couple has always put their family first, proving that they're the ultimate #coparentinggoals.
Besides attending their daughter's high school grad together, the two also sweetly celebrated Lily's acceptance into New York University in December.
At that time, Beckinsale shared an adorable side-by-side photo of Sheen picking up both Lily and herself in celebration. "The appropriate fatherly response when you find out your girl got into college: burst into tears, drop everything, rush over and pick up everyone even remotely involved," the actress wrote.
Could this family be any sweeter?
And if that wasn't enough, Beckinsale has always praised her ex. In an interview with ES magazine last year, the 43-year-old revealed how the two have managed to maintain an amicable relationship.
"It's so normal for us. We split up ages ago. We have been not together far longer than we were ever together," she explained. "But I really love him and like him and we make each other roar with laughter."
Beckinsale and Sheen certainly share the same sense of humour — this Instagram snap where the two hilariously recreated Lily's birth photo is solid proof.
And Beckinsale isn't just on good terms with her ex, but with Sheen's longtime girlfriend, Sarah Silverman, too. While this might seem odd, the actress explained to ES magazine that Silverman is a positive role model in her daughter's life, and she's not going to argue with that.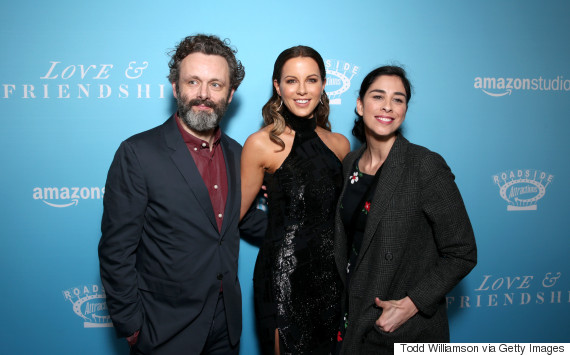 Michael Sheen, Kate Beckinsale and Sarah Silverman at the Directors Guild of America in 2016.
"I really love [Sheen's] girlfriend as well, and we are really lucky that we both get on, and Lily gets on great with her," Beckinsale said. "Having as many strong females in your teenage daughter's life as possible is a good thing."
Beckinsale and Sheen are clear proof that unconventional families can work.
Also on HuffPost
Divorced Celeb Parents Who Still Vacation Together