We've all wanted to be a mermaid at some point in our lives.
Don't lie — you've wanted the sparkling, colourful tail. The seashell bra. The perfect beachy wave hair.
So it only makes sense that a countless number of women are starting to conduct mermaid-themed maternity shoots, showing off their baby bumps in the most magical way possible.
With hashtags like #PregnantMermaid floating around, mermaid maternity photo shoots are bringing our underwater dreams to life.
Cosmopolitan notes that Ulysses Padilha, a photographer from Rio de Janeiro, posted a photo of a "pregnant mer-mom-to-be" on Instagram in 2016 and has since been making waves with his mermaid photography.
According to Cosmo, Padilha's goal is to pair the beauty of women with the mystery of mermaids. From snaps of women basking in the sand, to shots of mothers moving through the water, the Brazilian photographer said he has now shot 14 pregnant women. And if you're wondering how the heck they're able to look so flawless underwater, it's thanks to an independent makeup artist Ulysses hires to get his clients that perfect under-the-sea glow.
No wonder the Internet loves the photos!
And look! Even the babies are getting in on the mermaid action too!
This photo craze comes after South Florida photographer Adam Opris became a viral sensation in 2014 when he shot mothers-to-be in delicate, flowing dresses underwater. The results? Mermaid enchantment.
"I've practically lived in the ocean my whole life," Opris told Bored Panda. "With that great love for water, I am bringing mermaids out of my maternity clients. By embracing buoyancy and enabling these pregnant women to be free, I am creating magic to capture pregnancy in all of its glory."
And if you happen to be interested in creating a shoot like this before you welcome your own little mermaid into the world, Mermaid Kariel, based out of Hawaii, makes magical mermaid tails and ocean-inspired tops. And we think those might be a gifts you need for yourself.
Check out more mermaid maternity photos below!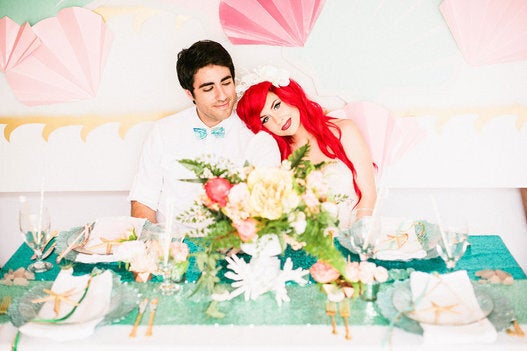 'Little Mermaid' wedding inspiration