You don't always get what you want for your birthday. Or the country's birthday.
Canadian Blood Services tried to get in on the Canada 150 action by asking for 150,000 donations by July 1 — but they've realized they won't hit that target.
The organization, which manages the country's "blood system," recently noted they might not have enough inventory to fill patients needs throughout the summer.
"We are pleading with Canadians to book an appointment to donate and replenish supplies before July 1," says Mark Donnison, vice president, donor relations at Canadian Blood Services, in a statement.
The ask comes as the country "celebrates" National Blood Donor Week, with events across the nation. According to the organization, one in two Canadians requires a blood donation at some point in their lives. And for many illnesses, more than one donation is necessary, as shown in this chart: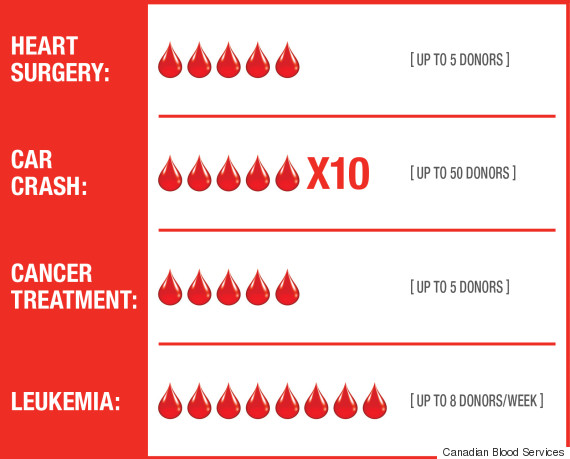 They're specifically seeking people with O negative (O-), as those are considered universal donors, but all types will be welcomed and accepted.
According to a 2012 CTV article, the agency collects approximately 850,000 units of blood a year, and while there's always someone in need of blood, summer tends to be a time when more is necessary.
"In addition to having to having to meet ongoing demand for blood products for such things as cancer treatments, we also see a spike in demand as result of car accidents over the summer," Donnison told the publication.
"[Canadian Blood Services sees] a spike in demand as result of car accidents over the summer."
And if, for whatever reason, you aren't able to donate blood, you can still give financially or volunteer at a clinic. Because every drop counts.