WASHINGTON — The White House has moved to put a lid on speculation that President Donald Trump might fire the special counsel investigating the Russia affair, while leaving just enough of a crack to keep the idea bubbling.
A presidential spokeswoman responded with a qualified endorsement Tuesday: "While the president has the right to (fire Robert Mueller), he has no intention to do so," Sarah Huckabee Sanders said in response to a reporter's question.
That response came after a sudden burst of chatter about Mueller's termination. It began over the weekend when Trump's lawyer wouldn't rule it out; then his associate Newt Gingrich appeared to call for it, as did some conservative commentators; Trump's friend Chris Ruddy said he was actually considering it.
A report in The New York Times said the president had indeed weighed the possibility, was dissuaded by staff, and has since landed on the idea of simply pressuring Mueller by letting him know he could be fired.
A series of Washington power-players had pushed back Tuesday against the idea of firing Mueller.
That push-back came from top officials from the party's congressional wing, as well as from administration officials who actually have the legal authority over the special counsel and would need to be involved in any firing.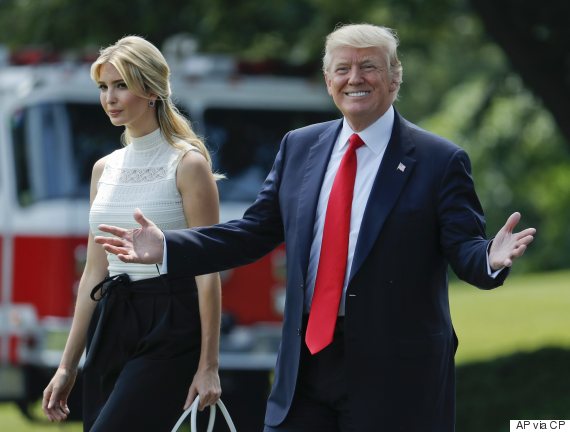 U.S. President Donald Trump smiles as he walks with his daughter Ivanka Trump across the south lawn of the White House in Washington on June 13, 2017. (Photo: Pablo Martinez Monsivais/AP via CP)
"I have confidence in Bob Mueller," said top House Republican Paul Ryan, in remarks echoed by top senator Mitch McConnell. Ryan said: "I think the best thing to do is to let Robert Mueller do his job. ... That, to me, is the smartest thing to do, the best thing to do."
The same goes for people in the administration.
That includes the man who hired the special counsel and would have to do the firing. The deputy attorney general, a civil servant, assured a congressional committee he would resist an unwarranted dismissal order: "I'm not going to follow any order unless I believe they are lawful and appropriate orders. ? It wouldn't matter to me what anybody said," Rod Rosenstein testified.
The reason the deputy attorney general is in charge is his boss has recused himself.
'I have confidence in Mr. Mueller'
And that boss, Jeff Sessions, also promised Tuesday not to get involved in any firing. For one thing, the attorney general testified in a separate congressional hearing: "I have confidence in Mr. Mueller."
He also said it would be inappropriate for him to get involved — given that he has recused himself from Russia-election-related matters. When his opponents pointed out that his recusal didn't stop him from participating in the firing of James Comey, he insisted the Comey firing was done for other reasons.
Sessions frustrated some committee members by refusing to answer questions about the president: Had Trump complained about his recusing himself, as reported in the press? What happened when Sessions left the room, and Trump allegedly pressed Comey to end an investigation? Have he and the president ever discussed the possibility of issuing criminal pardons in the Russia matter?
"I'm not able to comment on conversations with high officials within the White House," Sessions said. "That would be a violation of the communications rule that I have."
He said he was avoiding saying anything in case the president might later choose to exercise his executive privilege to withhold certain evidence. Sessions' Democratic critics quipped that's like refusing to answer questions in court, because you might later request immunity under the Fifth Amendment.
Also on HuffPost:
Democrat Martin Heinrich accused him of impeding the probe.
"You raised your right hand here today and you said you would solemnly swear to tell the truth, the whole truth, and noting but the truth. Now you're not answering questions. You're impeding this investigation," Heinrich said.
"You are obstructing that congressional investigation by not answering these questions."
He said Sessions had a right to either answer, ask for a private hearing, or invoke executive privilege. However, he said there's no legal statute allowing him to exercise an option No. 4 — avoid testifying about questions he feels are inappropriate.
The hearing didn't delve too deeply into the original concern behind the Senate intelligence committee inquiry, which is what Russian actors allegedly did the election to hack emails, and allegedly voting systems, to undermine faith in the U.S. Democratic process.
Sessions obfuscates
Republicans said it appears Democrats don't care about this anymore, ever since Comey said the president himself was not under investigation for election collusion. "(Now Democrats) have gone down lots of rabbit trails," Arkansas Republican Tom Cotton said.
Sessions said he has not received briefings on any Russia hacking.
He did appear to forget some details. He said he didn't recall whether he'd had a third meeting with the Russian ambassador, in addition to the original two he initially failed to report.
"It's conceivable that that occurred," Sessions said. "I just don't remember it."
One thing he was adamant about is that he would never have colluded with a foreign adversary, in an American election.
"The suggestion that I participated in any collusion — that I was aware of any collusion with the Russian government to hurt this country, which I have served with honour for 35 years, or to undermine the integrity of our democratic process — is an appalling and detestable lie," he said.
news