Across Canada this summer, communities are celebrating Pride in many different ways. Increasingly, these celebrations include children thanks to family-friendly Pride events and rallies. A reading circle with drag queens was a popular part of Edmonton Pride earlier this month, for example.
Canadian children are increasingly educated about LGBTQ issues thanks to updated curriculums that address gender and sexuality in age-appropriate ways. But many kids also have people in their lives who are in non-straight relationships or identify outside a gender binary. And, of course, some of those children themselves may identify as LGBTQ.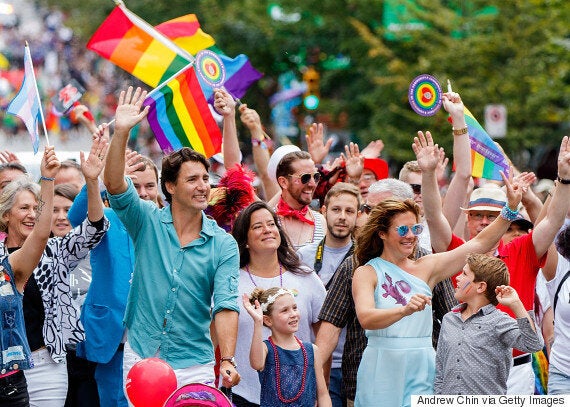 Prime Minister Justin Trudeau, his wife and kids at the 38th Annual Vancouver Pride Parade last year.
Bringing your children to Pride doesn't just give them the chance to celebrate with a community your family is part of or that you actively support. It also demonstrates to your children that you're open to the many ways people can identify and love, which is particularly important for them to know as they grow and discover who they are.
So why do some parents bring kids to Pride events?
My own son attended Pride when he was almost two. We were in Toronto shortly after his uncles were married and he spent an evening there with them. For me, it's important both in the context of support for his uncles and their community, and as part of larger efforts to raise him to be open-minded, welcoming and respectful of everyone.
"We go because we love celebrating with our community and we have lots of friends we meet up with there every year," says Avila Cohen, who first took her son to Toronto Pride when he was a year old. "Pride is a celebration of love and unity and that's what I want him to take away from all the fun and excitement."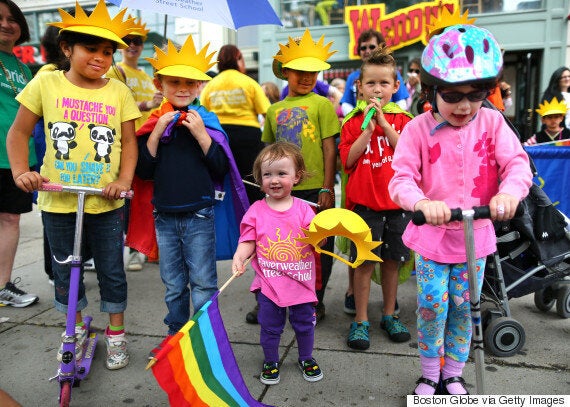 The annual Boston Pride Parade in 2013.
Julie Schwietert Collazo and her husband, who are from New York, bring their three children along when they attend anti-Trump protests, Black Lives Matter rallies, and other social justice demonstrations, including Pride.
"Pride is important because it helps our kids — especially our seven-year-old — understand that heteronormativity can be harmful, a lesson that's especially important as an antidote to the public school curriculum, which still presents couples and families only in heteronormative configurations, and only presents individuals as boys or girls in fairly rigid, traditional gender norms," Schwietert Collazo explains.
Michigan mom Jill Hermann-Wilmarth and her wife also attend Pride with their two children in hopes that it will open up their kids' world views.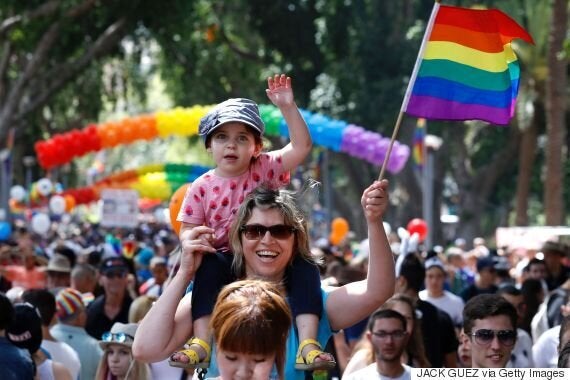 A woman carrying a child on her shoulder at the 2016 Gay Pride parade in Tel Aviv.
"It is important to bring kids to Pride events so that they see the wide range of diversity in our community," says Hermann-Wilmarth. "It's also important so that kids who are or who will eventually come out as queer, and kids whose parents are queer, get to experience a few moments where other people and families are like theirs, where, at least for the few hours of Pride, they are among lots of people whose experiences of queerness overlap with their own in big or small ways. I think this is especially important for kids who live in smaller cities and towns where the queer community might not be as visible as it might be in larger cities."
"Lastly, it is important for all kids to see the LGBTQ+ community celebrated and celebrating," she adds.
And on top of all the other reasons to attend Pride with children, it's also just a lot of fun. "Because love is love and it is a damn good party!" Nfld. resident Megan Marshall says when asked why she attends with her daughter.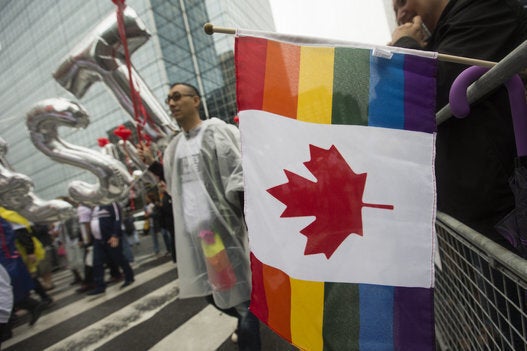 What You Should Know About Attending Pride