Halifax medical student William Sandeson has been found guilty of first-degree murder in the death of 22-year-old Taylor Samson.
Sandeson was charged two years ago with the murder of Samson, a fellow Dalhousie University student whose body has never been found.
There were tears and cheers from members of Samson's family after the decision was announced. Sandeson remained stonefaced as the jury of six men and six women was polled to affirm their agreement with the verdict.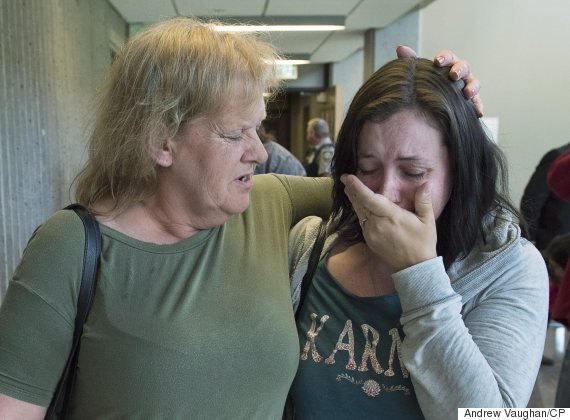 Taylor Samson's mother Linda Boutilier, left, and family friend Anne-Marie Anstey react after hearing about the guilty verdict in the William Sandeson trial. (Andrew Vaughan/CP)
"Turn around and take a bow, Billy," Samson's mother, Linda Boutilier, yelled as Sandeson was escorted out of the courtroom.
"Tell us where he is," another voice shouted from the gallery.
After the verdict, Boutilier told reporters that she would sleep soundly for the first time since her son went missing 22 months ago.
"I thank the good lord that the truth has finally come out," Taylor's grandmother Elizabeth Samson said, her voice quivering with emotion. "I do feel sorry for his (Sandeson's) family that they brought up a man like him. I would be heartbroken."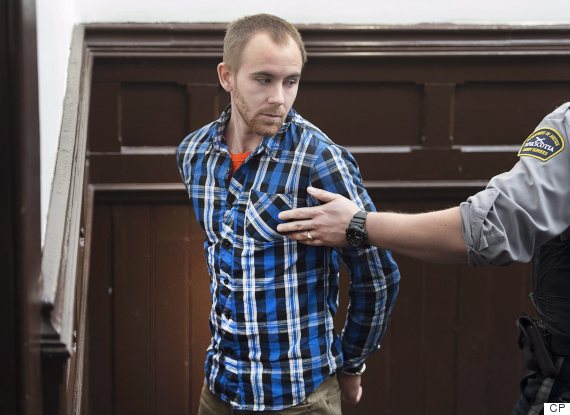 Medical student William Sandeson. (Photo: CP Files)
First-degree murder convictions carry an automatic life sentence with no chance of parole for 25 years. A formal sentencing hearing has been set for July 11, when victim impact statements will be presented.
Outside court, defence lawyer Eugene Tan said Sandeson wouldn't say whether his client plans to appeal the verdict.
Murder part of drug deal gone bad
In her closing arguments, Crown attorney Kim McOnie suggested Sandeson lured Samson to his apartment and shot him in the back of the head at his kitchen table during the drug deal as part of a scheme to alleviate his debt.
McOnie had argued Sandeson — who was slated to start medical school at Dalhousie within a week of his arrest — was motivated by money, noting he was in debt and that police only recovered roughly $7,200 cash.
"Taylor Samson had no clue what he was walking into."
— Kim McOnie, Crown attorney
The trial heard Sandeson was under pressure from his parents about his spending in the weeks before he allegedly murdered Samson. Sandeson owed more than $70,000 on a $200,000 line of credit.
McOnie suggested Sandeson never intended to buy the drugs that night — he planned to steal them.
"Taylor Samson had no clue what he was walking into," said McOnie, asking the jury to find Sandeson guilty of first-degree murder.
DNA matching Samson's was recovered from a bullet, gun, duffel bag and other items seized from Sandeson's Henry Street apartment in Halifax and his family's farm in Truro, the jury heard.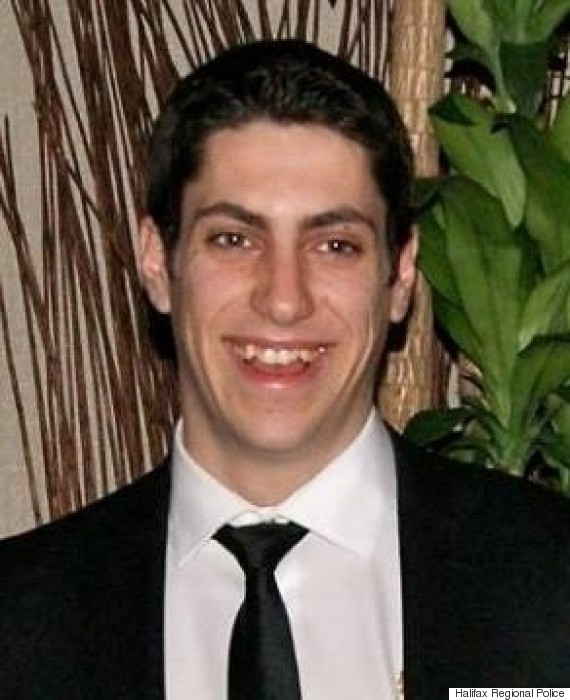 The body of Taylor Samson was never found. (Photo: Halifax Regional Police)
Defence lawyer Eugene Tan said in his closing arguments that Sandeson is not a "criminal mastermind" and that the Crown twisted evidence in the case to fit its theory.
Tan had conceded there was a "violent incident" at the apartment that night, but said Sandeson maintains there was a third party at the apartment.
Tan had asked the jury to acquit Sandeson.