Longtime Conservative MP Denis Lebel is quitting politics after nearly 10 years in the House of Commons.
The former cabinet minister made the announcement in his Quebec riding of Lac-Saint-Jean this morning.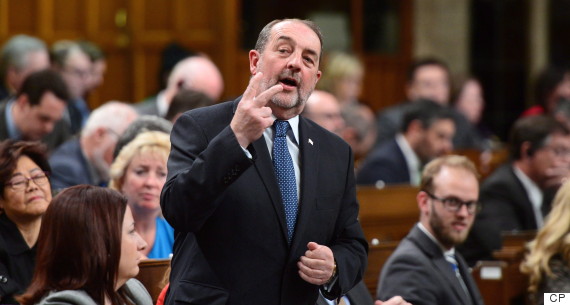 Conservative MP Denis Lebel speaks in the House of Commons on Parliament Hill on April 10, 2017. (Photo: Sean Kilpatrick/The Canadian Press)
The 63-year-old Lebel has been an MP since September 2007.
His various portfolios under former prime minister Stephen Harper included transport, intergovernmental affairs and infrastructure.
Lebel says he will officially step down in the next few weeks and will not be back in the Commons in the fall.
First elected in 2007, the Lac-Saint-Jean MP was named to cabinet in 2008 as minister of the Economic Development Agency of Canada for the Regions of Quebec. He was promoted to transport minister in 2011 but was shuffled out of the role after the Lac-Megantic train disaster. He also served as minister of infrastructure and intergovernmental affairs.
His exit comes on the heels of former interim Tory leader Rona Ambrose announcing she is also leaving federal politics and will resign her seat in the House of Commons when MPs break for summer. The House is set to rise for the summer this week.
Merci @DenisLebelPCC for your decade in public service. It has been a pleasure to serve alongside you in the House. #cdnpoli

— Bob Saroya, MP (@BobSaroyaMP) June 19, 2017
Also On HuffPost: