The president and CEO of Air Canada has come out in defense of airlines' practice of overbooking flights, saying it helps to keep airfares lower.
"Data shows there's a certain number of no-shows that come up, so this practice has permitted pricing over the airline industry generally that would stay lower," Calin Rovinescu told the Globe and Mail in an interview.
He stressed that the practice affects only a small percentage of seats on Air Canada flights.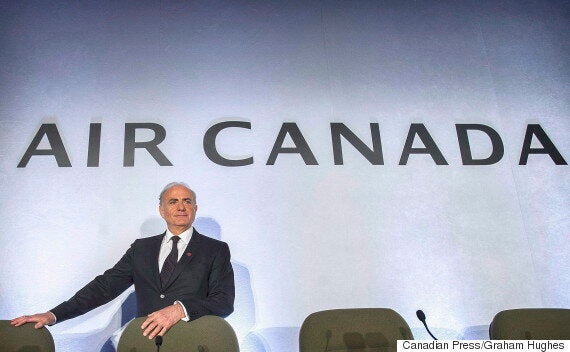 Transport Minister Marc Garneau introduced a new passengers' bill of rights in May, which he says will prevent airlines from bumping passengers from overbooked flights, if they don't want to be bumped. Details of the new regulations will be determined by the Canadian Transport Agency, which plans to hold public consultations this year. The final regulations are expected to be in place in 2018.
Rovinescu was giving interviews to media on Tuesday, following Air Canada's announcement it had won the Best Airline in North America award from SkyTrax. The airline highlighted it was the sixth time in eight years the airline had won the award, which is handed out at the Paris Air Show.
Globally, the Montreal-based airline is ranked 29th, behind mostly Asian and Middle Eastern airlines, which are perennial leaders. Porter Airlines was 55th, WestJet 58th, Air Transat 70th and Air Canada Rouge 99th.
"This award is a significant milestone in the transformation of Air Canada into one of the world's leading carriers and is all the more meaningful given the increased competition in our industry," Rovinescu said in a statement emailed to media.
Fully 17 per cent of respondents said they had had a "poor" or "terrible" experience with Air Canada, compared to four per cent of WestJet passengers. Air Canada's score was lower than that of United Airlines, which scored lowest among U.S. airlines in the survey.
— With a file from The Canadian Press