Celebrities, they really like us!
Selena Gomez, who is no stranger to Canada (after all, she's dating one of the most famous Canadians in the world, The Weeknd, and previously dated Stratford, Ont.-native Justin Bieber), noted that she's a fan of the Tim Hortons bagel and the "beautiful weather." (Ok Selena, we get that Canada's very cold.)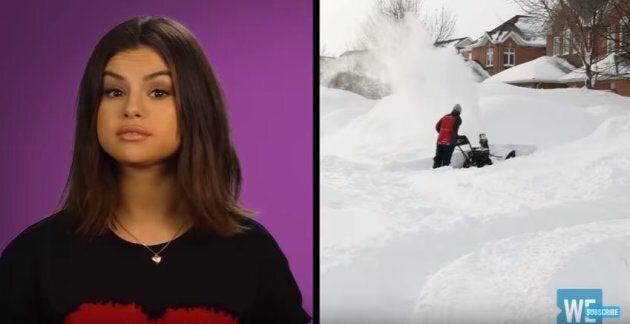 Meanwhile, Alicia Keys said that she loved that our country is "progressive," while Oscar-winner Kate Winslet described its citizens as "nice, kind, generous people." Awwww!
And of course, no mention of Canada would be complete without talking about — sigh — "aboot."
Yep, even Tyrese Gibson compared the way we say "about" to the word "trout."
Other celebs who paid tribute to Canada include Bryan Cranston, Josh Gad, DJ Khaled, Edward Norton, and Muppets Miss Piggy and Gonzo.
The video was made to promote WE Day Canada, which will take place on July 2 at Parliament Hill in Ottawa.
Celebs who will be making an appearance during the day's festivities include Hedley, Lilly Singh, Nelly Furtado, Barenaked Ladies, P.K. Subban, Kardinal Offishall, Jus Reign and tons more.