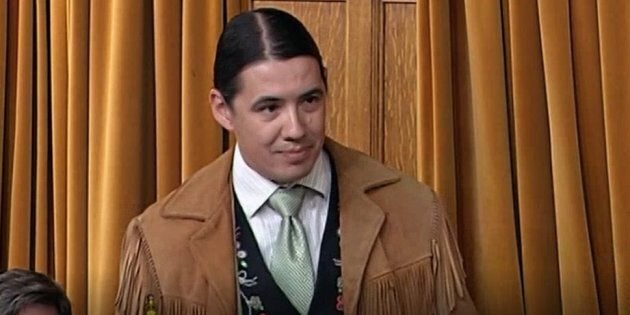 An indigenous Liberal MP says he is "deeply offended" by a recent ruling from the House Speaker that immediate translation cannot be provided when he speaks his traditional language in the Commons.
Winnipeg Centre MP Robert-Falcon Ouellette is promising to take up the fight when Parliament returns in September, hinting he would back an opposition motion on the matter.
"I really think the Speaker lost an opportunity to really make a historic ruling, to be a champion for indigenous people," Ouellette told HuffPost Canada of Geoff Regan's decision.
I was hoping the Speaker would use his [position] to not view the world from an 1867 perspective but to view the world from a 2017 perspective.Robert-Falcon Ouellette
The issue centres on a member's statement Ouellette delivered in May, entirely in Cree, on acts of deadly violence against indigenous women in the Prairies. The MP, who comes from Red Pheasant First Nation in Saskatchewan, said at the time that he chose to speak in Cree because he wanted indigenous youth to hear his message and feel pride in their language.
But since Parliament does not offer translation services for indigenous languages, Ouellette's words were not understood in real time by the vast majority of members. The MP says he provided a French and English translation of his one-minute speech to Commons services 48 hours before he spoke, but no simultaneous interpretation was provided.
Earlier this month, Ouellette argued his parliamentary privileges were violated and that he was "effectively silenced" that day, even while holding the floor. He asked that "minimal resources" be directed to ensure indigenous languages can be translated in the Commons, as they are in the legislative assembly of the Northwest Territories.
Regan ruled last week that he could not find Ouellette was prevented from conducting his parliamentary functions.
Regan said the House lacks the "technical and physical capacity" for that level of interpretation and offered up what he conceded might be seen as a "woefully inadequate" solution. MPs speaking a language other than English or French should take the "extra step" of repeating their comments in one of the two official languages, the Speaker said.
In an interview with HuffPost, Ouellette said he was irked the ruling came down on the eve of National Aboriginal Day and pointed out that Regan could have waited until after the summer break to respond to his point of privilege.
"I know I might regret some of these words later on but I think it was a clearly wrong decision," he said.
Ouellette said he is passionate about preserving indigenous languages that have been "suppressed, crushed, destroyed in many cases."
While arguing his point of privilege last month, Ouellette noted the Truth and Reconciliation report — which called the residential school system a "cultural genocide" — highlighted that revitalizing aboriginal languages was key to reconciliation.
Story continues after slideshow: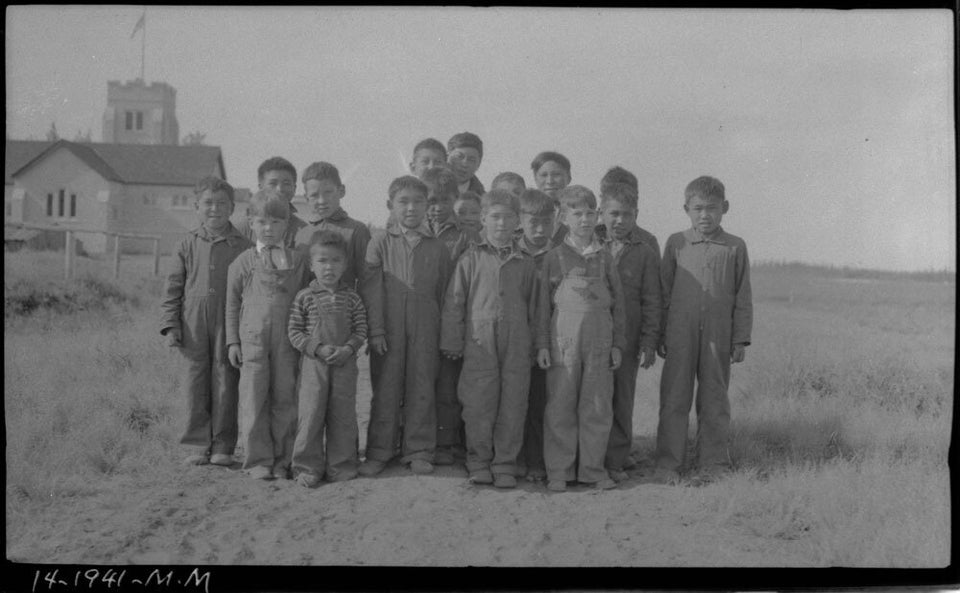 Residential Schools: A Photo History
Having a handful of interpreters available in the Commons is not too expensive of an ask, he suggested, and "technical issues" can be smoothed out, even when MPs move to a temporary chamber in the West Block next year.
"I was hoping the Speaker would use his [position] to not view the world from an 1867 perspective but to view the world from a 2017 perspective," he said.
With a strict one-minute cutoff on member's statements, Ouellette says he simply would not have had the time to say his speech in Cree and then repeat it in French or English. Proceedings in the Commons have been simultaneously translated into English or French since 1959.
Ouellette expressed interest in the Speaker's chair shortly after his election in 2015, but withdrew his name from consideration after controversial comments about the job's influence.
Regan's ruling also sparked a sharp rebuke last week from NDP MP Romeo Saganash, a residential school survivor, who called it the "most terrible thing" he's heard in six years in Parliament.
"In this country that you now call Canada, I am told that there are only two official languages in this place, and that I cannot speak the language that has been spoken in this country, on this territory, for the last 7,000 years, even before a single word in English or French was heard in this place," Saganash, also his party's indigenous affairs critic, told the Commons.
The next day, Saganash spoke entirely in Cree when he pressed Prime Minister Justin Trudeau in question period about his decision to rename the federal building that houses his office. The Langevin Block is named after Sir Hector-Louis Langevin, a father of Confederation who has been called a supporter of residential schools.
According to a translation provided by New Democrats, Saganash asked if Trudeau consulted the Algonquin people or descendants of the Penoshway family who were removed from the land where Parliament Hill is located in the mid-1800s.
Trudeau clearly did not understand what was asked of him, which was ostensibly the point Saganash was hoping to make.
"I thank the member opposite for his words and wish I had the capacity to understand the strong culture and language that he shared with us today," Trudeau responded.
Ouellette thought Saganash's gambit made for an interesting moment.
"It was a very good point to make on the part of Mr. Saganash," he said. "I hope the debate continues. Everyone has a specific role to play."
For his part, Ouellette is mulling delivering a 10-minute speech in Cree when the House sits again in September or bringing a motion before the Procedure and House Affairs Committee, responsible for Commons business, as urged by Regan.
He'd also be willing to throw his support behind an opposition effort to call on the government to enhance the interpretive services.
'Who wants to be against apple pie?'
"This is the funny thing, I don't think there'd be anyone who would actually vote against it. Who wants to be against apple pie?" Ouellette asked. "But you still have to get someone to bake the apple pie."
Earlier this month, non-indigenous Liberal MP Marc Miller sparked headlines by speaking the Mohawk language in the Commons. Miller called it the culmination of a "personal journey" to raise awareness of indigenous languages.
Ouellette told HuffPost he deliberately took a seat in front of Miller as he delivered his remarks.
"You can see me ... smiling, beaming up at him, encouraging him."