A North Carolina man charged with rape was reminded to keep his priorities straight after he commented on a Facebook post seeking his arrest.
Derek Helms, 28, had outstanding warrants for his arrest on first-degree kidnapping and second-degree rape charges, according to the Cabarrus County Sheriff's Office.
Police reached out to the public on Facebook last week to try to locate him, saying he lived in Stanly County, N.C. but could have left the state.
One man who said he had worked with Helms spoke out in his defence, saying he was a "great guy" and that he didn't believe he was guilty.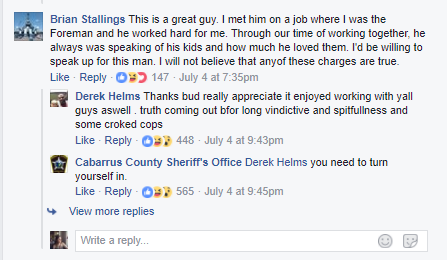 Then Helms himself thanked the man for standing up for him.
"Thanks bud really appreciate it enjoyed working with yall guys aswell. Truth coming out bfor long vindictive and spitfullness and some croked cops."
Police couldn't help but respond, even tagging his Facebook profile.
"You need to turn yourself in," they wrote.
While it's unclear whether he did so or not, by Sunday, he was in custody. Now he appears to be facing two more charges, order for arrest and obstruction of justice, with total bond set at more than US$1.2 million.
Suspect disappeared after charges were filed: police
The case was a "complex" one that allegedly involved domestic violence, investigators told WBTV.
They had been talking with Helms about it, Sheriff Brad Riley told the broadcaster, but as soon as charges were filed, they couldn't find him.
"When we got to that part of filing the charges on him, all of a sudden he becomes a little more elusive and a little less available through family members and his own attorney," he said. "It's very paramount that he would contact us and us go through the process, right, wrong, or indifferent."
Helms maintained his innocence in a long Facebook post last week.