HALIFAX — Protesters who pledged to remove a statue of Halifax's controversial founder Saturday say they came away victorious after the monument to Edward Cornwallis was covered in a tarp.
Dozens of people — including Halifax Mayor Mike Savage, who had voiced concerns about "violent action" at the protest earlier in the week — looked on as a city-owned truck helped drape the tarp over the statue in Halifax's Cornwallis Park.
A Facebook event called "Removing Cornwallis" invited protesters to "peacefully remove" the statue, but organizers didn't initially say how they planned to make that happen.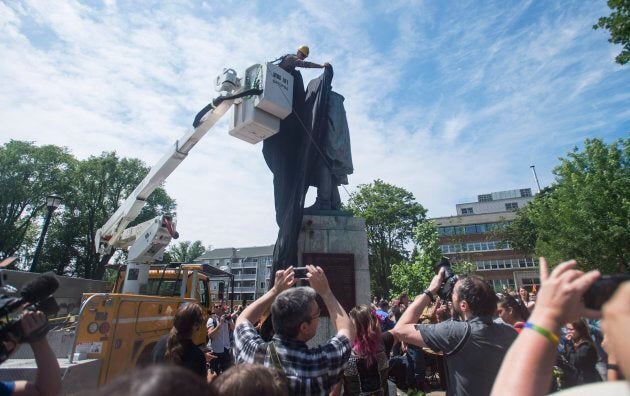 Protesters worked with the city to cover the monument, and Savage said the tarp would be taken down after the event.
Cornwallis, as governor of Nova Scotia, founded Halifax in 1749 and soon after issued a bounty on Mi'kmaq scalps.
The Mi'kmaq have long called for removal of tributes to Cornwallis, some calling his actions a form of genocide.