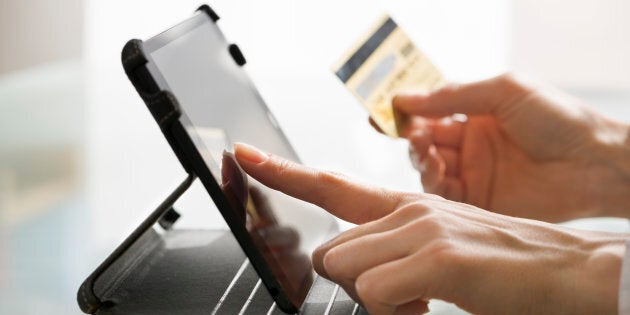 The latest data on inflation and retail sales has good news for shoppers — but worse news for Canada's retailers.
Retail prices in Canada fell at an annualized rate of nearly one per cent between February and May of this year, according to data released Friday by Statistics Canada.
It's the sharpest decline in prices since early 2015, when parts of Canada were falling into a recession caused by the collapse of oil prices.
"Intense competition among retailers, as highlighted by the Bank of Canada in its recent communications, could be behind the decline in prices," National Bank economist Krishen Rangasamy wrote in a client note.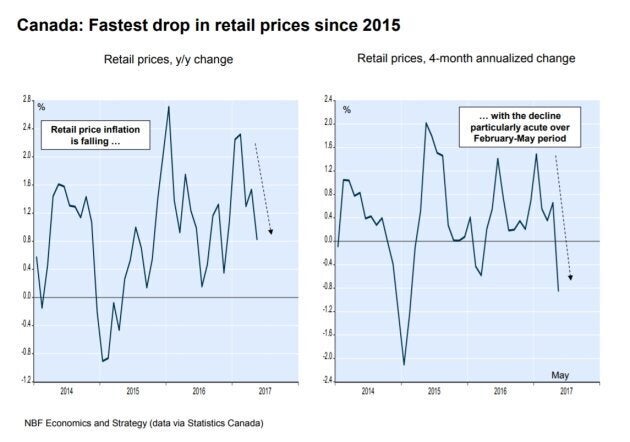 Canada's shoppers may finally be seeing a tangible price effect from online shopping. The same StatsCan report found e-commerce sales have jumped 49.6 per cent nationwide over the past year to $1.26 billion this past May, from $857 million the same month last year.
That's putting pressure on Canada's traditional retailers, as evidenced by the struggles of Sears Canada and other brick-and-mortar chains. Sears Canada on Friday launched liquidation sales at 54 stores across the country, having filed for creditor protection last month. The retailer plans to close 59 stores while laying off 2,900 employees.
Lower inflation as energy prices fall
All the same, prices are still slightly higher in Canada today than they were a year ago. Statistics Canada says the consumer price index rose one per cent in June, after growing at a 1.3-per cent pace in May.
Lower energy costs (down 1.3 per cent in a year) helped to keep prices from rising any higher. Food costs increased by a soft 0.6 per cent over the past year.
Canada's inflation rate is only half the two per cent rate the Bank of Canada wants see, but the bank has been signalling that with strong job growth and a pick-up in GDP growth, Canada can expect stronger inflation in the months to come.
But Rangasamy has his doubts.
"It's unclear if that will really happen in light of the recent appreciation of the Canadian dollar (which lowers import prices) and the increasing influence of e-commerce which will continue to keep a lid on retail prices," he wrote.
In other words, Canadian consumers could be enjoying the fruits of the retail battle for some time to come, even if retail workers aren't.