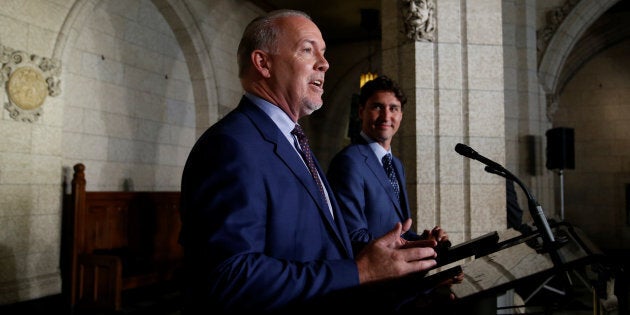 OTTAWA — An apparently clumsy moment and a small pool of water in the House of Commons foyer helped illustrate the biggest disagreement between B.C.'s new premier and Prime Minister Justin Trudeau after their first face-to-face meeting Tuesday.
As a reporter began to ask John Horgan about Kinder Morgan gearing up to build its $7.4-billion expansion project in September and the need for provincial permits, Horgan raised his right hand and accidentally knocked a glass of water by his side.
The glass bounced on the marble floor, clattering as its contents splashed the premier's lectern and spilled in front of the television cameras.
"Spills can happen anywhere," Horgan deadpanned.
The quick wit sparked laughter from reporters.
"We'll get people to clean that up right away," Trudeau responded.
"There's a federal response for that," the premier added, smiling.
Horgan campaigned hard against pipeline
Horgan's NDP campaigned this spring vehemently opposed to the expansion of the Trans Mountain pipeline from Alberta to B.C.
"The Kinder Morgan pipeline is not in BC's interest," the party's platform states. "It means a seven-fold increase in tanker traffic. It doesn't, and won't, meet the necessary conditions of providing benefits to British Columbia without putting our environment and our economy at unreasonable risk."
During the election, Horgan — who now leads a minority government propped up by the B.C. Greens — pledged to use every tool possible to stop the project.
In May, he said he'd cover just what those tools would be with Trudeau. "I'm going to be discussing those with the prime minister the day after the election," he said during a campaign stop in Kamloops.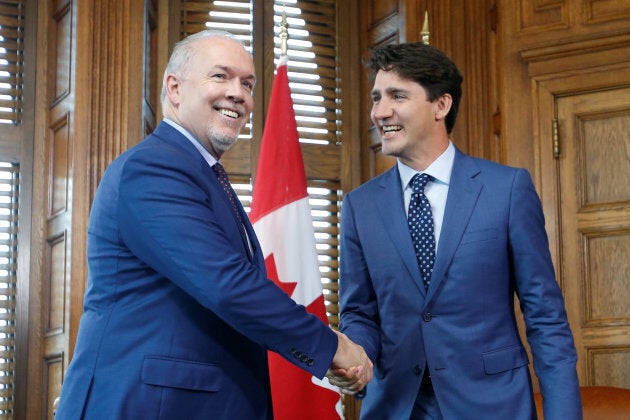 But Tuesday, the men who were wearing near-identical outfits — blue suits, light blue shirts, dotted ties and brown leather shoes — wished to stress only areas of similarity and agreement.
If there were any disagreements between Trudeau and Horgan during their 35-minute meeting — during which the pipeline was discussed — neither man showed it.
"I'm very much looking forward to working with you, John," Trudeau told Horgan, as he listed off their topics of conversation: B.C.'s raging forest fires, the opioid epidemic, funding for child care and affordable housing, as well as the premier's upcoming trip to Washington to discuss a softwood lumber deal and the impending NAFTA negotiations.
"Thank you, prime minister. And thank you very much for the warm welcome here in Ottawa today," a smiling Horgan told Trudeau.
"Quite often, as you may well know, we feel isolated and alone on the other side of the Rocky Mountains, but to have an ally in the prime minister to talk about these critically important issues that resonate right across the country — affordable housing, access to affordable child care — those are constants right across the country, and Canadians are looking for leadership, and I'm grateful to see it coming from the prime minister on those areas," the NDP premier added.
Notably missing from Trudeau's or Hogan's list of topics discussed, of course, was that pesky matter of the Kinder Morgan pipeline.
When asked by a reporter how far Horgan was ready to go to stop the project or how prepared Trudeau was to push it through over the objections of B.C., Trudeau responded that he wanted to "highlight how incredibly positive this first meeting was."
The prime minister added that while both leaders are "progressive politicians," disagreements are inevitable.
"Difficult issues come up," Trudeau said. "We're going to work together to resolve them."
"I'd like to focus on what we have in common," Horgan offered. While his government disagrees on the Trans Mountain pipeline, the premier made it clear he has more pressing priorities to address.
"A thousand people died last year in British Columbia from opioid overdoses, and we're projecting over 1,400 potential deaths this year," Horgan said. "Fires are raging in British Columbia right now. Tens of thousands of people are out of their homes. So we focused on those issues that we needed to focus on."
Fires are raging in British Columbia right now. Tens of thousands of people are out of their homes. So we focused on those issues that we needed to focus on.B.C. Premier John Horgan
Horgan also told reporters that while work on the Kinder Morgan pipeline is pressing ahead, he has yet to receive a "thorough briefing" from the staff at the provincial attorney general's office on the legal cases that are in play, although he has met with the leadership of the Tsleil-Waututh, Musqueam and Squamish First Nations.
"...we'll deal with those [concerns] in the days and weeks ahead, but for today our focus is on making sure we're helping those who need help and building on the relationship that we need to have on those critical issues about helping the middle class and making life more affordable for British Columbians."
Horgan did not highlight scrapping Kinder Morgan as a government priority when his NDP government published its ministerial letters last week. The new attorney general, David Eby, was given no mandate to fight the Kinder Morgan pipeline. Only Environment Minister George Heyman was given the task of fulfilling a more muted version of the party's campaign promise — defending B.C.'s interests rather than fighting the pipeline period.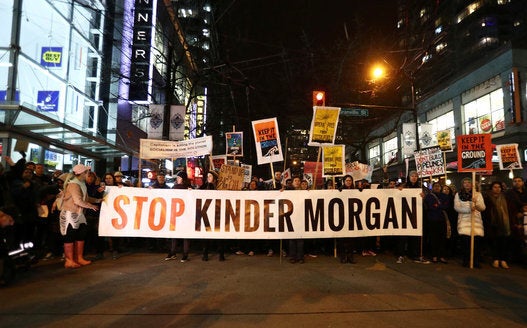 Vancouver Kinder Morgan Pipeline Protests