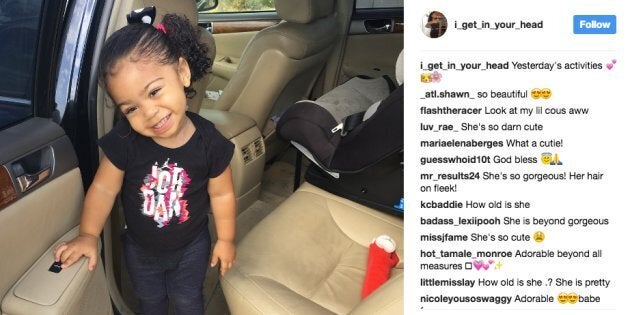 How old were you when your parents started experimenting with your hair?
Crystal Harden, mom to daughter Aiden, shared a video of her toddler with her newly flat-ironed hair on Instagram back in April. She captioned the vid, "Straightened my baby's hair yesterday 😍👑 she's so gorgeous."
After being picked up by the Instagram account The Shade Room, where it racked up more than 2 million views, the video drew a lot of critical comments from people who weren't happy with Harden's parenting.
"Too young gonna damage her hair early on," one wrote, while another stated, "Stop sexualizing your daughter."
Others shared the sentiment that toddlers shouldn't be interested in their hair.
"Let that baby be a damn baby!" wrote a commenter. "She should be playing w/ toys not showing off her damn hairstyle. Ughhhhh some moms these days...smdh"
Let that baby be a damn baby!
"Is this not sum type of abuse? Also black people got to love themselves more, the world already hates us we need to at least love ourselves or it's a wrap," one person commented, while another wrote, "I feel like this is just teaching this baby and other little girls that straight hair is more desirable than their natural curls."
"I received the negative reactions that the majority of people gave me from my own mom," she said. "She was like, 'Oh it was too mature to do her hair like that. You shouldn't have posted that. There are creeps out there.'"
You shouldn't have posted that. There are creeps out there.
She also explained that because Aiden likes watching her do her own hair, she decided to flat-iron her daughter's hair to see what it would look like.
"She loved it. She was swinging her hair. I took her to the park and the wind was blowing. She just loved it," she said.
"I don't want her to be preconditioned to think that she has to straighten her curls, because her hair is beautiful curly and it's beautiful straight," Harden said. "I just wanted to see herself in a different light and know that she is beautiful any way that she dresses up or however she does her hair."
She added: "I hope to teach her that she is beautiful in her own skin, and she can only do that if she genuinely wants to for her own purposes, and not to impress other people."