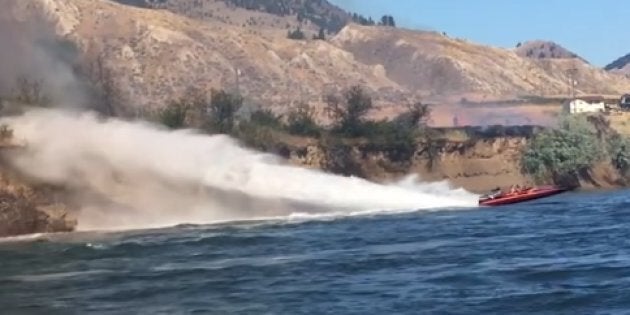 A B.C. boater is being hailed as a hero for using his need for speed and his jet boat to duke it out with a grass fire.
Koyne Watson was on the South Thompson River with his fiance Tasha Hunt on Saturday when the couple spotted smoke off the river's edge, according to CBC News.
Hunt called emergency crews, but "speed freak" Watson had something else in mind.
The 43-year-old said he drove his boat hard and "hung on to that horsepower" — hell yeah — to send water flying out of the end of his boat toward the fire.
"He took a pass at it and he hit the flames. The flames started to kind of go down," Hunt told B.C.'s Black Press. "So he kept going and doing pass after pass until the fire trucks came."
Emergency crews quickly put out the fire when they arrived.
Lorrie Jane Arnott was one of several boaters in the area who saw Watson fighting the flames. She posted a video of the incident on Facebook, leading to tons of online praise for Watson.
'Badass!'
"Everyone stood up on their boats and applauded him," she told CBC. "He was definitely the hero of the day." "Badass! Freaking awesome stuff right there!," wrote one commenter on Arnott's video, while others hoped Watson got some "gas money and beer" for his efforts.
Hunt told Kamloops This Week she would have never thought of using the boat to fight the fire: "He's a smart-thinking man, I tell you."