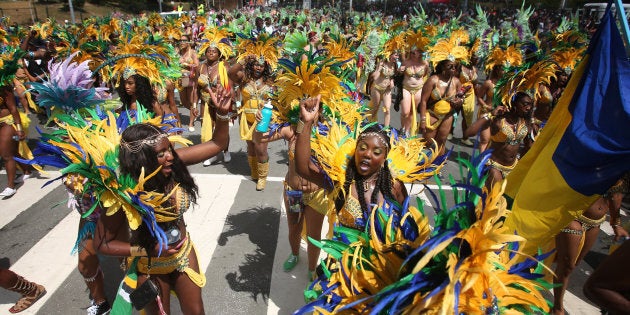 Toronto's Caribbean community comes alive during the city's Caribbean Carnival ... formerly known as Caribana. Festivities and official events have been taking place for weeks now, but things really heat up this week. Here's a rundown of some of the not-to-miss Toronto Carnival events.
This of course is not an exhaustive list, there are so many more parties and carnival-themed events happening in Toronto this week. We chose the options below because they represent a good cross-section of different events. The NE denotes personal picks. Have a happy and safe Toronto carnival!
This is the brainchild of popular Soca DJ Dr. Jay, aka de Soca Prince. This was the first soca jam to take place at Cabana. It was a game changer. Now in its third year, it has become one of the go-to parties for Toronto Carnival. This year the event is hosted by rapper Cardi B.
Why You Shouldn't Miss It: Come Thursday, most of the big soca performers and other celebrities will have arrived in Toronto. Don't be surprised if you bump into a few of them at this event. It'll be chock-full of beautiful people. Plus, who doesn't want to party by the lake in the breeze?!
Where: Dream Lounge, Markham
It's a rooftop patio party featuring big name DJs like D'Bandit, Spex Da Boss and Starting From Scratch.
Why You Shouldn't Miss It: This party promises a sexy vibe. Also, the Markham locale offers a respite from the crush of downtown events and the increasing traffic, thanks to out-of-towners. This is also a good event for those new to Carnival parties.
If you're more into sitting down and being entertained, you should definitely check out the regal display of artistry and creativity at the King and Queen of the Bands competition at Lamport Stadium. Competing carnival bands finally reveal their marquis costumes — the large costumes on wheels — that were previously shrouded in secrecy. On that night, you'll first see the male and female individual costumes compete, followed by the king and queen costumes.
Why You Shouldn't Miss It: This is true art and culture in motion. You'll marvel at the splendour and careful engineering of these costumes. You'll wonder how the masqueraders in the costumes can actually pull and dance in them. It's also a great primer for the Saturday parade. If you can, try to get a seat next to a group of seasoned carnival-goers — their colour commentary during each costume appearance will be both informative and comical.
Bare Gyal, Aug. 3
Where: Phoenix Concert Theatre
Bare Gyal is West Indian Slang that basically means lots of girls. i.e. I went to a party and there was "bare gyal." During Toronto Carnival season, Bare Gyal is a fete like none other. It's a celebration of women. They pride themselves on providing a safe space for women regardless of race, ability, sexuality etc. This event is hosted by Toronto creatives HeraPatra, AMillionMinds and Tika The Creator,
Why You Shouldn't Miss It: This event is all about love only...no judgement. You'll leave feeling empowered and fearless. Plus the dj lineup is certifiably hype. They include: Dj Ohso, Dj Bambii and Dj Lissa Monet.
This upscale food-inclusive day party has more of a laid back vibe. There will still be lots of dancing and partying, but you're less likely to get water or powder (popular at some soca fetes) thrown on you at this event. The big parade is the next day people are trying to pace themselves. It runs from 2 p.m. to 8 p.m.
Why You Shouldn't Miss It: Everyone will be dressed in their summer best. The food is always amazing and is catered by Tasty's Caribbean Restaurant. It feels like a classy backyard barbecue.
This party is known as the eclectic day-to-night, long-weekend party experience. It became popular mainly because it's associated with Lebron James. You'll hear more hip hop at this event than at any of the others. It's hosted this year by lifestyle influencer Kenny Burns, and yes, Lebron James and his celebrity friends are expected to be there. It goes from noon til late.
Why You Shouldn't Miss It: If being seen at hot spots is important to you, you'll for sure want to be here. WarnerLifestyle is known for throwing great parties. The celebrity appeal is second to none at this event. It's garnered international attention.
If your only knowledge of steel pan is the guy who greets you at that island resort you were at last winter, then you need to go to this event. This competition features Steel Pan orchestras! I dare you not to get up and dance. Steel pan is the OG of Caribbean music.
Why You Shouldn't Miss It: It's highly entertaining. The pan players are from all walks of life. You'll see kids performing and veteran pannists. It will make you feel like you're in the Caribbean.
A Drake-backed party that happens after the big parade on Saturday. The line-up includes Machel Montano, Bunji Garlin, Ultimate Rejects, Charly Black and Kranium, and is hosted by Toronto's own T-Rexx.
Why You Shouldn't Miss It: This event features the biggest names in Caribbean music right now. They are household names whose songs have crossed over to the mainstream (like "Grey's Anatomy" mainstream). There was a time when Machel Montano would pop up at various fetes during Caribana. But not anymore — he's exclusively at OvoFest, and this is your only chance to see him perform in Toronto this carnival. Ultimate Rejects had the biggest hit this year in "Full Extreme," it was the most played soca song in Trinidad Carnival history. All of these acts on stage is kind of major. Plus, anything associated with Drake is bound to draw a crowd.
This is a showdown between two popular Caribbean eats, doubles and patties. It's hosted by Black Foodie, a digital platform and event brand that explores food and culinary experiences through a black lens. The annual Caribana lunch party features complimentary doubles and patties sponsored by Nyam Catering, plus a summer menu created by Chef Joe Friday of Underground Chef Co.
Why You Shouldn't Miss It: A truly unique event, with great food and casual vibe. Ideal for the day after the parade. What's more, the venue Food Society boasts a brand new patio, conveniently situated right beside a parking lot downtown.
Where: Nia Centre for the Arts
In honour of the 50th anniversary of Toronto Carnival, Nia Centre for the Arts is holding a multi-day black arts festival called Blowout. The festival will begin on Saturday, Aug. 5 at the Peeks Toronto Caribbean Carnival Grand Parade; continuing with an arts symposium on Sunday, Aug. 6 at Toronto Centre for the Arts, and the festival will conclude on Monday, Aug. 7 with the free Blowout Blocko at Earl Bales Park. It's hosted by Canadian hip hop icon Michie mee and will feature performances by Pete Rock and CL Smooth, Saukrates, Blessed and Ammoye, to name a few.
Why You Shouldn't Miss It: You'll be supporting an organization that highlights African Canadian arts and culture. Blowout Fest will feature arts programming, including carnival arts, music, literary, visual, and media, all in recognition of the Afro-Diasporic experience, and in celebration of Canada's 150th and Toronto Carnival's 50th anniversaries.