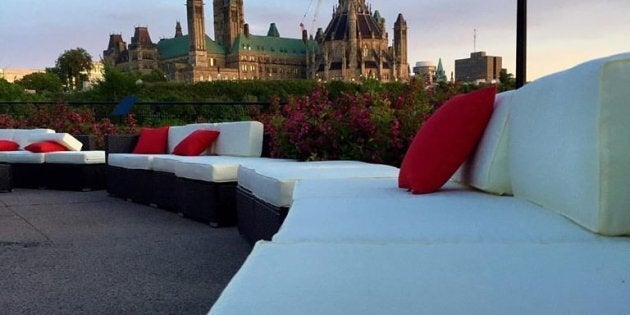 Ottawa, quite simply, comes to life during the summer. While the city doesn't shy away from cold weather (how could it, really?), the first glimpses of sunlight offer up a whole new perspective on the capital — and you better be sure you take advantage of it.
In fact, Ottawa is home to some of the greatest patios in the country, thanks to views of the river, Parliament Hill and the general good vibes all around the city. Amongst all the Canada 150 hoopla, you're bound to get out at some point, so why not plan for an outdoor beverage or four?
Take a look at our list of the best patios in Ottawa that can help you enjoy the rest of your summer.
Where: Unit 107 - 825 Exhibition Way (Landsdowne Park)
The vibe: Youthful, with a hint of a craft beer snobbery
A pint costs you: $5.50 to $7.50
Where: 67 Clarence St. (ByWard Market)
The vibe: Tourists, to be sure, but also locals who like being in the middle of the action
A pint costs you: $6.50 to $8
Where: 325 Dalhousie St. (ByWard Market)
The vibe: Upscale, business-casual, chic
A pint costs you: $7 to $14 (though the cocktails tend to be more popular)
Where: 434 Preston St. (Little Italy)
The vibe: Soccer fans, birthday parties and general good-time goers
Where: 357 Richmond Rd. (Westboro)
The vibe: Veggie-friendly folks (whatever that means) out for a meal, students and girls' nights
Where: 1223 Alexandria Bridge (Major's Hill Park)
The vibe: Families and daytrippers during the day; dates and parties at night
Where: 356 Richmond Rd. (Westboro)
The vibe: Casual, sports fans
A pint costs you: $6.95 to $8.50
Where: 555 Wellington St. (Ottawa River)
The vibe: Casual, fun, relaxed
Where: 231 Elgin St. (City Hall)
The vibe: Boisterous, happy and loud — you know, the way you get after eating oysters